Oh? Cher Spotted Holding Hands With Amber Rose's Ex/Son's Father Alexander 'AE' Edwards, Cher Hints At Being 'In Love' On Twitter
​
Nov 04 | by _YBF
​ ​ ​ ​
Well, what do we have here? Singer Cher was spotted holding hands with Alexander "AE" Edwards, who is Amber Rose's ex, in the streets of Hollywood. Rapper Tyga was also in the mix. See pics and videos of the twosome, plus Cher's tweets about being "in love" inside…
Well, this wasn't on the Bingo card for 2022.
Legendary singer Cher was seen looking real cozy with Amber Rose's ex, Alexander "AE" Edwards, in Hollywood.
The 76-year-old singer and the 35-year-old VP of A&R at Def Jam - both dressed in all black - held hands as they made their way inside celebrity hotspot Craig's in West Hollywood. While in their vehicle, AE is seen softly kissing Cher's hand. He also seemed very protective of her, telling her to watch her step as they came up to a curb.
AE's friend/collaborator Tyga, who was seen at Cher's Malibu mansion a few days ago, was also in the mix.
Check out the video and pictures of twosome and Tyga below:
Cher and Amber Rose's ex AE were spotted holding hands lastnight heading to Craigs with Tyga

: backgrid pic.twitter.com/mM4TL2DhNe

— Glock Topickz (@Glock_Topickz) November 3, 2022
Cher sparked romance rumours when she was spotted holding hands with Amber Rose's ex-boyfriend Alexander "AE" Edwards Cher is 76 and Alexander is 36.

At one point, AE was seen delicately kissing Cher's hand while they were in a car.

via @TCherUniverse pic.twitter.com/O15KRUuV5q

— Breakfast Television (@breakfasttv) November 4, 2022
Pictures of Cher and AE quickly circulated online, and fans have been questioning the "Believe" singer about her love life, speculating if AE is her new boo. One of her fans tipped her off about his cheating ways (which he has publicly admitted), and that's when she mentioned being "in love":
"#Cher make him wrap it. Dude is seriously a player. So just don't fall in love with him. O.K.?," one fan wrote. "@cher your crew loves just a heads up girlfriend we want you to be happy but dude has a history of cheating," another fan wrote.
"BABE ENGLISH IS MY FIRST LANGUAGE, IM IN [HEART EMOJI] NOT BLINDED BY IT. KNOW WHAT I KNOW ... SMOKE DOESNT ALWAYS MEAN [FIRE EMOJI]," she tweeted.

"IS HE REALLY YOUR BOYFRIEND!???," a fan asked.
"HMmmmmmm," Cher responded.
Another fan mentioned she should livestream the wedding on Twitter so her followers could attend: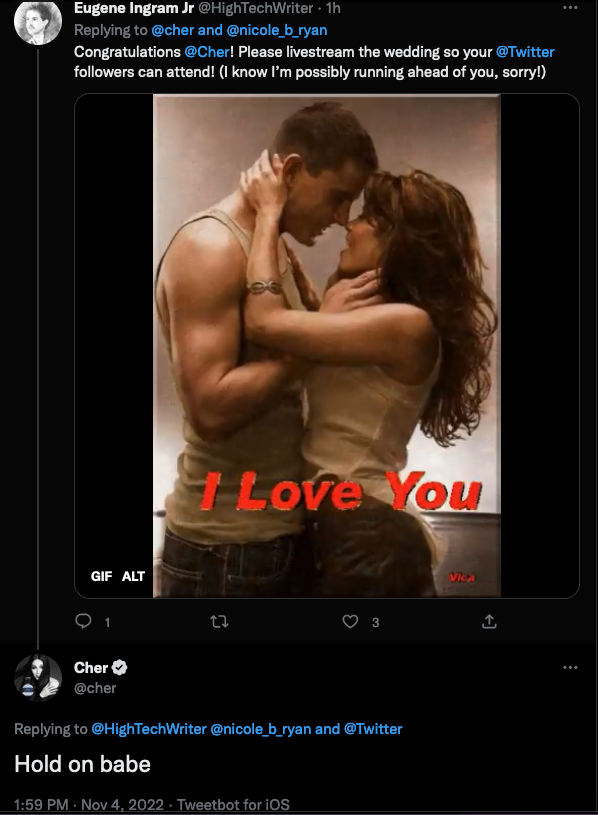 "Hold on babe," Cher responded.
Maybe she's just out here having fun in these streets.
Last August, AE publicly admitted to cheating on his ex/son's mother Amber Rose in an interview and then said he wanted her back.
As for Cher, she has been in a public relationship in over a decade. Over the years, she has been involved in several high-profile relationships. In 1964, she married the late Sonny Bono, with whom she shared son Chaz Bono, 53. The couple split 11 years later. In 1975, she tied the knot with the late Allman Brothers singer Gregg Allman, with whom she shared son Elijah Blue Allman, 46. Nine days after the wedding, Cher filed to have the marriage dissolved.
We shall see...
Photos: Fred Duval/Shutterstock/MEGA
​ ​
​ ​ ​