Father Of UVA Shooting Suspect Says He Was Being 'Picked On,' Classmates, Coaches & More Tribute The Victims
​
Nov 15 | by _YBF
​ ​ ​ ​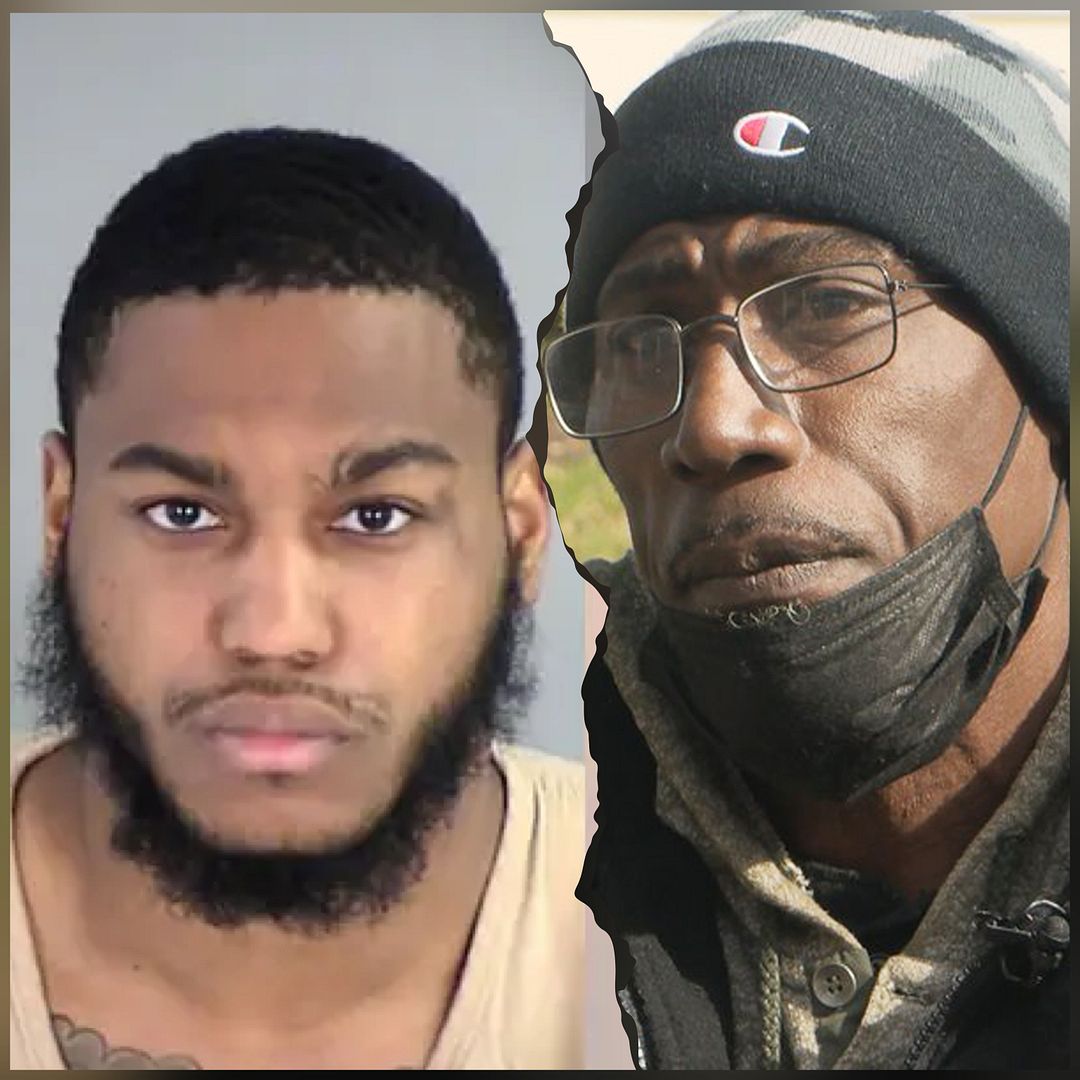 The father of UVA shooting suspect Christopher Darnell Jones Jr. is speaking out since his son fatally shot and killed three UVA football players and injured two others. His father, Chris Sr., shared that his son told him a month ago that other students were "picking on him" at school. More of what the father said about his son, plus how classmates, coaches, and more are paying tribute to the victims inside…
The University of Virginia student accused of killing three football players and injuring two others told his father that some people had been "picking on him" before the deadly shooting on Sunday night.
In a Monday interview with NBC 12, Christopher Darnell Jones Sr. revealed the details of his last conversation with his son, Christopher Darnell Jones Jr.
"He had some problems the last time I talked to him. He said some people was picking on him or whatever, he didn't know how to handle it, and I just told him don't pay it any mind and just go to school," Jones Sr. recalled.
The father and son spoke about a month before Jones Jr. allegedly opened fire on a bus carrying football players and students returning to campus from a field trip.
"He was really paranoid when I talk to him about something, but he wouldn't tell me everything. He was a very sensitive young man."
Jones Sr. revealed that his son moved in with him and his grandmother in Petersburg around the time he was in high school. Jones Sr. separated from his wife when Jones Jr. was still a child. He began bumping heads with his mother, which resulted in him transferring from Varina High School in Henrico to Petersburg High School in Petersburg, VA.
"When we finally had a chance to talk, he said there were some people there who were giving him a hard time, but he still was upbeat, and he was positive," Jones Sr. said. "I don't know what happened between then and now to cause this to happen. I can't believe it was him," said Jones Sr. "I still can't believe it now."
Jones Sr. also apologized to the victims' families on his son's behalf.
"My heart goes out to their families. I don't know what to say, except I'm sorry, on his behalf, and I apologize," he said.
Watch his interview below:
Jones Jr., 22, was apprehended in Henrico, five minutes away from his mother's house, on Monday morning after a 12-hour manhunt.
Surveillance footage from a doorbell camera captured video of Jones Jr. being arrested without incident. You can watch the arrest here.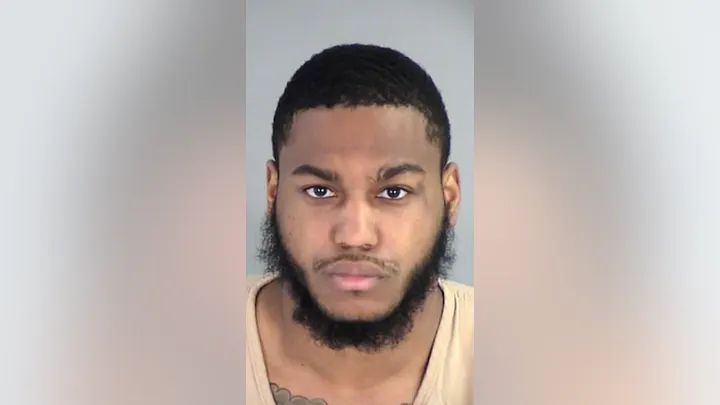 Christopher Jones Jr. was charged with three counts of second-degree murder and three counts of firearm used in the commission of a felony. As the police gather more evidence, more charges are expected to be filed against him.
Wide receiver Lavel Davis Jr. of South Carolina, linebacker D'Sean Perry of Miami, and wide receiver Devin Chandler of Virginia Beach have been identified as the victims. The police are not releasing the names of the two victims who were injured to protect their identities.
The father of UVA player Michael Hollins (below) confirmed that his son was one of the victims wounded in the shooting.
Michael Hollins Sr. told the Washington Post that he got a call that his son, a junior running back for UVA, had been shot. Hollins Sr. said his son was in "stable" condition" Monday morning and currently intubated.
"The doctors said he's going to recover," Hollins Sr. said. "They said because of his age and physical condition, he's doing exceptionally well."
Hollins also said law enforcement officers told him the alleged shooter brought a gun on the bus while on a field trip with other students and opened fire on his classmates once the bus returned to campus.
"He waited until they all got back to Charlottesville, and he just shot up the bus," Hollins told the Washington Post.
On that bus Sunday night was a sophomore pre-med student, who said her close friend was one of the victims.
"We thought he was going to shoot everyone on the bus at that point," Ryan Lynch said.
Lynch claims that as she and about 25 of her classmates and a professor were returning from a field trip in Washington, D.C. when Christopher Jones Jr. pulled out a gun as they approached campus.
"Chris got up and pushed Lavel," she said. "And then after he pushed him, he was like, 'You guys are always messing with me.' Said something weird like that, but it was very bizarre because they didn't talk to him the whole trip."
She continued, "They just kept coming, more and more gunshots. The shooter just sort of walked or skipped off the bus when I saw him pass."

"I was frozen," Lynch said. "I didn't know what to do. She was like, 'We have to try to help him, we have to help him.' She was amazing. She just started crying and said we have to help him. And so, we tried to, she checked his pulse, and I was just looking on his body and just had so many gunshots in him."
She said the three victims all have good spirits and were nice to be around.
"All the men had such a beautiful spirit to them," Lynch added. "They always had a smile on their face, they never showed any level of exhaustion. So personable and so kind."
Watch her interview below:
UVA football players took to social media to mourn the loss of their teammates, Devin Chandler, Lavel Davis Jr. and D'Sean Perry, killed in the shooting.
Check out some of their heartbreaking posts below:
— Anthony Johnson Jr. (Shram) (@aj_ballout) November 14, 2022
3 Teammates, 3 Friends, and 3 Brothers that will never be forgotten. RIP41. RIP1. RIP15

— Trey McDonald (@TreyDMcDonald) November 14, 2022
Words can't describe how I'm feeling rn. You all did not deserve this. I'm sorry my brothers until we meet again I love you all https://t.co/9IyGLU2HxZ

— Xavier Brown (@XavierBrown22) November 14, 2022
I love you boys, heart is hurting

— Joshy (@josh_mccarron8) November 14, 2022
NBC 12 spoke with friends and family members of the slain football players. One of their teammates was extremely emotional while talking about his teammates:
Some students in several fraternity houses put up signs in honor of the victims. They spray-painted "UVA Strong" and "Virginia Strong" along with the names and numbers of the victims.
Students in several fraternity houses near where the shooting happened are putting up signs for the victims. #13NewsNow pic.twitter.com/Ca4OXFcgDG

— Allison Bazzle 13News Now (@13AllisonBazzle) November 14, 2022
The University of Virginia canceled classes and other formal academic activities for Tuesday as it deals with the emotional fallout from a fatal shooting. Thousands of UVA students and members of the community gathered together to grieve at prayer services and public vigils.
UVa students gathered on the south lawn for a vigil. @DailyProgress pic.twitter.com/9RSYus3JsT

— Mike Kropf (@mikekropfphoto) November 15, 2022
Powerful.. with lit candles and phones, you can see the scope of the turnout here for #Charlottesville vigil

Listen with the audio on- it's completely silent on #UVA South Lawn

Thousands here despite the frigid cold pic.twitter.com/dpaEf9UG1w

— Marissa Parra (@MarParNews) November 15, 2022
Vigil at UVA. Thousands of people gathered for a silent candlelight memorial honoring the lives lost in the shooting.

JMU will host its own vigil in support of UVA Tuesday at 7 p.m. pic.twitter.com/l9oB5Hgb8h

— Charlotte Matherly (@charmatherly) November 15, 2022
UVA students are gathering outside of Old Cabell Hall for a candlelight vigil after in memoriam of the three students shot and killed and the two students injured by another student on Sunday night. pic.twitter.com/bXfXbaNO1p

— sydney shuler (@sydneynshuler) November 15, 2022
The suspected shooter was scheduled for his first court appearance this morning, but it was pushed back.
UVA SHOOTING SUSPECT HEARING UPDATE: Our sister station in Charlottesville reports Christopher Jones Jr.'s arraignment hearing has been postponed. @WAFB https://t.co/8A8642le3s

— lizkohTV (@lizkohTV) November 15, 2022
According to reports, Chris Jr. was scheduled to appear in court for an early morning video arraignment hearing on Tuesday, Nov. 15, but it has been postponed.
Such a tragedy. We send our condolences to the families and friends of the victims who have been affected by this horrific situation.
Photo: Henrico County Jail/CBS6 Video Screenshot/University of Virginia Football

​ ​
​ ​ ​