Kelly Rowland Gracefully CHECKS Interviewer Over Disrespectful Beyoncé Comparisons
​
Nov 17 | by _YBF
​ ​ ​ ​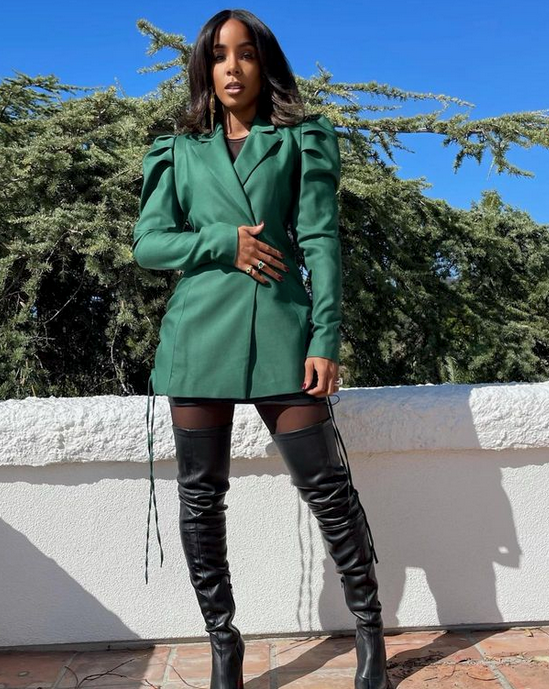 The Beyoncé / Kelly Rowland comparisons are so OLD and lame. So, when an interviewer tried to compare the former Destiny's Child singers in a new interview, Kelly gathered him in the most gracious way. Watch how she did it inside…
It's 2022, and interviewers are STILL comparing Beyoncé and Kelly Rowland during interviews. Those types of questions are so early 2000s and, not to mention, disrespectful to Kelly, who has become a superstar in her own right.
Currently, Kelly is on the promo trail with Marsai Martin to dish on their upcoming family sports comedy, Fantasy Football.
It's never too early @KELLYROWLAND pic.twitter.com/j6Bzj4w5XC

— DC3 SQUAD (@DC3_SQUAD) November 15, 2022
The film follows 16-year-old Callie (Marsai Martin) and her father, Bobby Coleman (Omari Hardwick), who is an NFL running back. Bobby's career is on thin ice as he can't stop fumbling the ball, but his luck changes after his daughter learns she can control his performance by playing Madden.
The "Motivation" singer and the LITTLE actress stopped by HOT 97 to dish on their new film with the radio hosts on "Ebro In The Morning."
During the conversation, co-host Peter Rosenberg commended Kelly for her "ability" to "play second to Beyoncé."
"Everyone who gets in the entertainment business gets into it to be 'the man,' right? And you happen to be standing next to the brightest light on planet Earth — like you think Big Boi from Outkast has it tough being next to André — you're with Beyoncé. And not only did you not like, fight it, it seemed like you really loved the position that you were in and took it seriously," Rosenberg added.
Sir, what?! As he continued on about how she's basically "second," Kelly quickly jumped in to check him, respectfully.
"Here's the thing. Light attracts light. I am light," she said. "I am a beautiful, brown shining light. I don't think anybody's light dims anyone else's. I think that when other people start to compare you, I think that that's when it shows how dim they are of themselves. So I don't take somebody else trying to dim my light anymore for anybody else," she said as Marsai nodded in agreement. "I love B. I know that she's a light, but I know that I'm a light, too," she continued.
He couldn't read the room and KEPT going.
"But it also created such an interesting role for you where you could have rested on your laurals, and been like hey, 'I'm a part of this iconic group. My best friend is the biggest star in the world. We kick a**. We're awesome," Rosenberg continued.
"Yes, and her bestfriend/sister is one of the biggest stars in the world too," Kelly interrupted. "People only see things one-sided. I don't like when they just put one person in one place. We shining together," she continued.
CHECKMATE!
Watch the clip below:
Kelly Rowland & Marsai Martin on Beyoncé and Homecoming - HOT 97 pic.twitter.com/PRtvMpAWIB

— Hermaden (Fan Account) (@IChoseViolences) November 16, 2022
Twitter quickly came to Kelly's defense:
And THIS is why I love Kelly Rowland!!!! You better SHINE!!!!! https://t.co/zw5vOBBV4w

— sheryl lee ralph (@thesherylralph) November 17, 2022
Kelly Rowland is a grown woman with her own career, her own accolades, and her own dreams. Pls stop asking her about Beyoncé every time you talk to her https://t.co/Ukn7Um8WwF

— Meech (@MediumSizeMeech) November 16, 2022
Kelly called him out to his face & he still didn't get it. Even, Marsai Martin caught it. Outside of Destiny's Child, Thee Kelly Rowland is an international superstar, actress, author & businesswoman! She's been in this industry 25+ years & in 2022 you're still comparing? pic.twitter.com/1n2GjSXwhN

— Jerome Trammel, MBA (@MrJeromeTrammel) November 16, 2022
I want hosts to find another angle when interviewing Kelly Rowland. We've witnessed the "second fiddle to Beyoncé" storyline for decades and it's honestly redundant and highlights a lack of creativity when approaching interviews with someone over 20 years deep into their career https://t.co/qD6g7fpbNF

— Nicolas-Tyrell Scott (@iamntyrell) November 16, 2022
STOP ASKING KELLY ABOUT BEYONCÉ. ASK KELLY ABOUT KELLY.

Kelly Rowland is a legend in these streets. She has plenty that we don't know about her, yet interviewers use her to try and get to Beyoncé's business. Give it a rest! https://t.co/cQzMBf5kr0

— Stinkabutt (@KameronRaji) November 16, 2022
The former Destiny's Child singer, who was recently with amfAR's Award of Courage, hopped on Twitter to thank her fans for the support:
Have The most amazing day Twitterville!!! Thank you all for your
Love & support! I know ya'll got my back! And that made me do a happy dance this am! Let me see your happy dance!! Here's mine! pic.twitter.com/rQHwTTPwFn

— KELENDRIA ROWLAND (@KELLYROWLAND) November 17, 2022
"Have The most amazing day Twitterville!!!," she tweeted. "Thank you all for your Love & support! I know ya'll got my back! And that made me do a happy dance this am! Let me see your happy dance!! Here's mine!"
Aww! We love you Kelly!
You can watch the full interview below:
HOT 97's Peter Rosenberg gave himself the "Congratulations You Played Yourself" button following backlash over his Beyonce question. He claims he sent her an apology before the interview was published because he felt he messed up. "I understand why people were annoyed by it," he said. Watch his apology above.
Be sure to check out Kelly Rowland and Marsai Martin in Fantasy Football, which will be available to stream on Paramount+ beginning Friday, November 25th in the U.S. and Canada, and November 26th in the U.K. and Australia.
Photo: Kelly's IG
​ ​
​ ​ ​