LOVE STAYS WINNING: Reginae & Armon Celebrate Musical Milestone, Jordyn Spoils B'Day Boy Karl Anthony Towns, 'Love Is Blind' Couple Lauren & Cameron Celebrate 4th Anniversary
​
Nov 17 | by _YBF
​ ​ ​ ​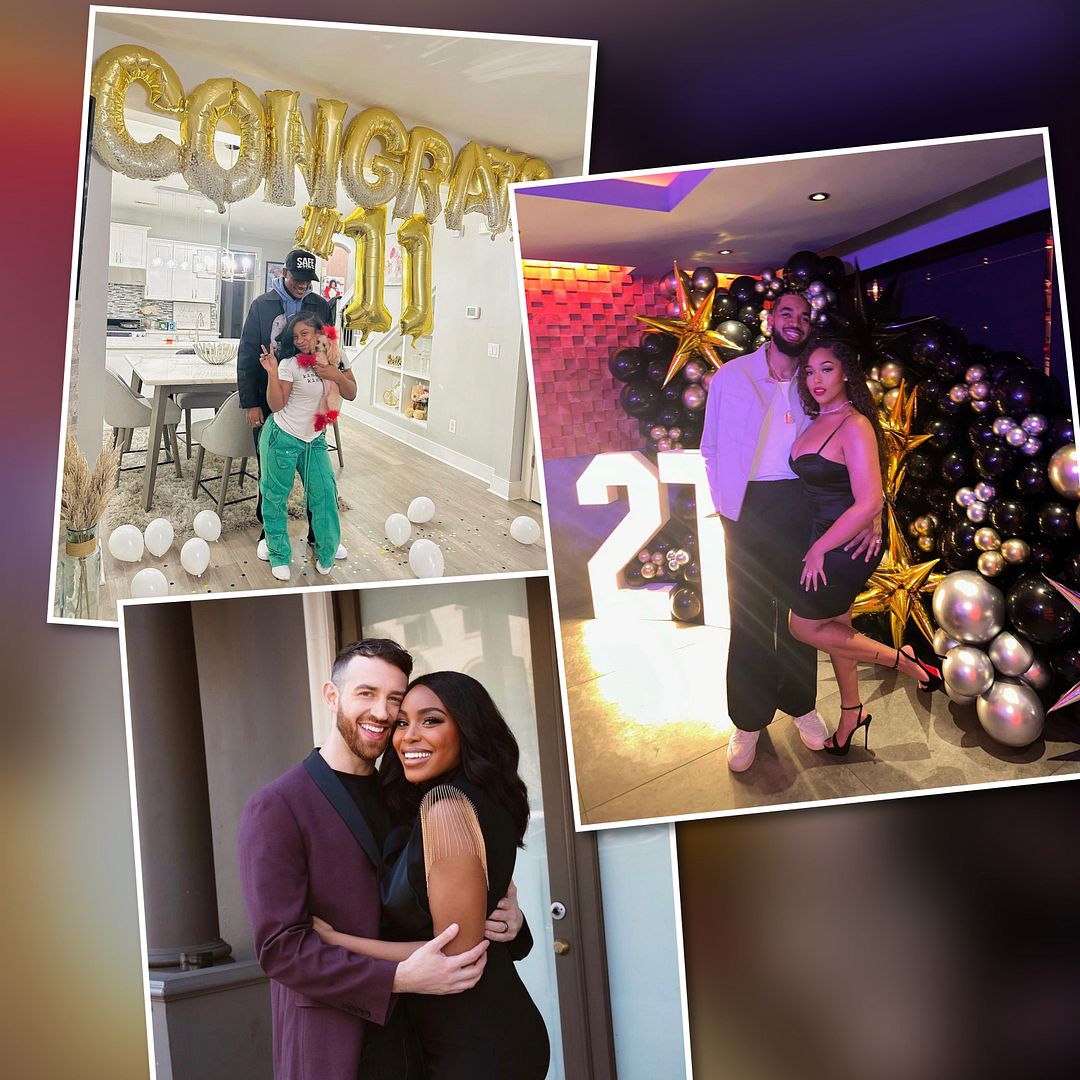 Love is winning for a few celeb couples. See how Reginae Carter surprised her boo Armon Warren, how Jordyn Woods spoiled her man Karl Anthony Towns for his birthday, and "Love Is Blind" couple Lauren Speed-Hamilton and Cameron Hamilton's 4th anniversary celebration inside…
With so much turmoil and tragedy going on in the world, it's refreshing to see love winning somewhere.
What folks thought was a PR relationship has seemingly proved to be an actual relationship between two young people learning to love one another.
Rumors that Reginae Carter, daughter of rapper Lil Wayne and entrepreneur Toya Wright, and YouTuber Armon Warren are dating started back in August. And since then, the couple has been sharing moments from their blossoming romance on YouTube and social media, growing their fan bases while creating a new one for their coupledom.
Proving to be the supportive girlfriend, Reginae surprised Armon, who is an aspiring singer, with decorations to celebrate his song, "Hol' It Down," making it to the No. 11 spot on Billboard's Digital Sales chart. The former "Growing Up Hip Hop: Atlanta" star decorated his apartment with huge balloons that spelled out "CONGRATS #11"
Peep his post below, where he thanks her for holding him down:
"She Don't Care What It Is, She Gone Support & Celebrate Right Beside Me. I couldn't love her more.Thank You Baby @itsreginaecarter For The Surprise Congrats. I love you deep gal. thank y'all for #11 @billboard Digital sales let's keep going," he wrote.
It appears his track, "Hol' It Down," is dedicated to Reginae. Watch the lyric video, which features cute clips of him and her together, below:
Well aren't they cute. We were a bit skeptical at first, but he seems to be a much better fit for her than her last boyfriend.
Speaking of celebrating their man….
For his 27th birthday, Jordyn Woods penned a beautiful tribute to her boyfriend/Minnesota Timberwolves center Karl-Anthony Towns to celebrate.
The 25-year-old influencer shared a carousel of photos of them throughout their two-year relationship, writing, "I'm so blessed that our friendship blossomed into the relationship we have today. Being on this journey we call life has been nothing short of amazing. Your heart is what I fell in love with and your enthusiasm is what keeps me going. I could go on forever but they already know I don't play about YOU! Happy Birthday to my baby @karltowns I love you!"
In a second post, she shared pictures from a birthday dinner, as well as photos of her laying across the bed all dressed up, surrounded by birthday balloons. People in the comments said it was giving, "I'm the birthday gift," and we agree.
We know Karl - who signed a $224 million contract extension in July - loved all of it.
We've been fanning out over this couple since they made it IG official in September 2020. We're going to need an invite to the wedding.
Speaking of weddings...
It's an anniversary and a birthday!
Lauren Speed-Hamilton and Cameron Hamilton quickly became fan favorites on Netflix's first dating series, "Love Is Blind." They're still going strong, proving they are the real "Love Is Blind" MVPs.
The "Love Is Blind" couple celebrated their fourth wedding anniversary and Lauren's 35th birthday yesterday.
"4 years into forever with you Mr. Hamilton," birthday girl Lauren wrote in the caption of a carousel of photos. "I'm so much better because of it! I love you to the moon and back! Forever my Clyde #MinusThePowPow Happy Anniversary Baby!"
The couple's love story didn't air on "Love Is Blind" until February 2020, but they became engaged and got married within a month of knowing each other while filming the Netflix reality series in 2018.
Cameron shared a post, wishing his wife a Happy Birthday and Happy Anniversary:
"Happy birthday, my love!," he wrote. I'm grateful for you every day, rain or shine. You light up this world. The last four years together have been a gift. I threw away the receipt, so we've got to keep each other Happy anniversary, baby!"
Mrs. Hamilton also shared her own birthday post to celebrate:
"Thank you Lord! I'm so fortunate," she wrote. "I'm so grateful! I'm so blessed! I give all of the praise and honor to you! I don't know how you do it Lord but, each year we get better and better despite the circumstances. I've learned not to lean on my own understanding but to lean on your word and your love! I use to be so afraid of my 30s but I feel like life is just starting to get good! I can't wait to see what the next 30 will look like! I know God is gonna continue to blow my mind! #thebestisyettocome"
Congrats to them & Happy Birthday Lauren!
Photos: Instagram
​ ​
​ ​ ​