Witness Says UVA Shooting Suspect 'Targeted' Victims, Shot 1 Football Player While He Was Sleeping, All 3 Shot In The Head + Victim's Mom Details Deadly Shooting
​
Nov 17 | by _YBF
​ ​ ​ ​
Details about the UVA shooting that resulted in the deaths of three football players and the injuries of two others are trickling in. A witness revealed the suspected shooter, Christopher Darnell Jones Jr., was "aiming at certain people" and that he shot one player while he was sleeping. The medical examiner confirmed that each player died of a gunshot wound to the head.
Also, the mother of Mike Hollins, the injured football player, shared the tragic details he told her about the deadly shooting. Details inside…
Additional details about the UVA shooting that resulted in three football players being killed and two others injured are coming in.
The horrifying details were revealed during the suspect's first court appearance at Albemarle General District Court before Judge Kenneth Andrew Sneathern, which occurred on the same day students returned to class.
A witness who saw the suspected shooter, Christopher Darnell Jones Jr., a 22-year-old University of Virginia student, open fire on a charter bus returning from a field trip told police that the gunman targeted specific victims, many of whom were football players.
Junior receiver Lavel Davis Jr. of Dorchester, South Carolina, junior defensive end/linebacker D'Sean Perry of Miami, and junior wide receiver Devin Chandler of Virginia Beach, VA, were killed. Running back Mike Hollins of Baton Rouge, Louisiana, is hospitalized after being shot in the back. A fifth person on the bus, Virginia student Marlee Morgan, was also shot.
The witness shared that the suspected shooter fatally shot Cavaliers receiver Devin Chandler while he was sleeping on the bus. The students had just returned to the Charlottesville campus after traveling to D.C. to see a play and eat Ethiopian food afterward, according to Albemarle County Commonwealth's Attorney James Hingeley.
After Devin Chandler was shot, the witness said the wide receiver slid out of his seat and onto the floor.
The witness said the suspect was "aiming at certain people" and not shooting randomly, according to Hingeley. Officers responding to the scene discovered Devin Chandler and D'Sean Perry dead on the bus. Lavel Davis died from his wounds at a hospital, he said.
The medical examiner confirmed the three slain UVA players were shot in the head.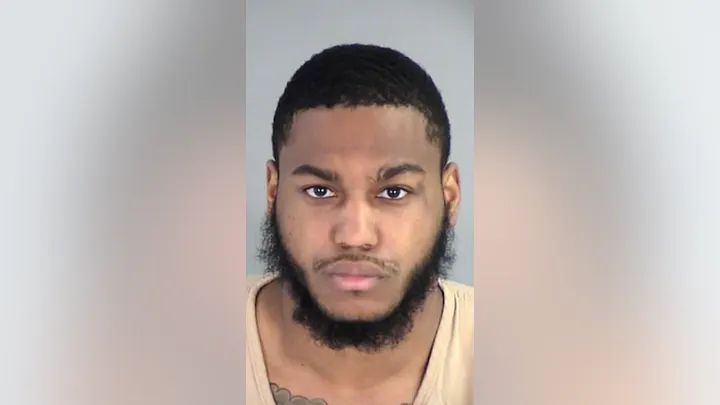 Christopher Darnell Jones Jr., a former UVA walk-on football player, watched the hearing via video from the Albemarle-Charlottesville Regional Jail and said little during the 20-minute hearing except that he wanted to hire his own attorney. Police captured Jones Jr. in Henrico County, VA not far from where he attended high school, after a 12-hour manhunt as UVA was placed on lockdown.
Jones Jr. has been detained without bail after being charged with three counts of second-degree murder, three counts of use of a firearm in the commission of a felony, and two counts each of malicious wounding and use of a firearm.
You'll recall, the suspected shooter's father, Christopher Jones Sr., said his son told him that people were "picking on him" during their last conversation about a month ago.
Jones Jr.'s next court hearing is scheduled for December 8th. He's being held without bond in a Charlottesville jail.
Witness Ryan Lynch, a 19-year-old neuroscience major, said the suspected shooter wasn't in their class focused on African American playwrights. Jones Jr. had been invited to the class trip by their professor.
Junior running back Mike Hollins shared the horrifying details of what he experienced that night of the shooting to his mother, Brenda Hollins.
When the gunshots first rang out, Mike thought it was balloons popping. Then, Hollins saw the alleged shooter and yelled at the bus driver to stop the bus. Hollins and two other students jumped off the bus, but he quickly realized that no one was following them.
After getting off the bus, Hollins told the two students to keep running before he got back on the bus to help the others.
"His classmates are grateful for him because they said he saved their lives," Brenda Hollins told ESPN. "He was the first off the bus and told two of his classmates to run, and he went back. He said, 'Mom, I went back. I needed to do something. I was going to beat on the windows because no one else was coming off the bus.' He said, 'I was going to beat on the windows. I was going to go on the bus and tell them to come on, get off.'"
Hollins encountered the suspected shooter once he reached the first step of the bus. He said the shooter pointed the gun at him and that's when he turned around to run. Jones Jr. shot him in the back.
"The only thing he remembers is he tried to turn, but he saw him lift the gun," Brenda said. "He felt his back get hot and he ran."
While he was running, he began to pull his shirt off. When he looked down, he could see the bullet protruding from his stomach.
"He got afraid that if he ran too far into the parking garage, no one would find him and he would die," Brenda said.
The running back stopped running and a medical student, who was on the bus, helped him until emergency personnel arrived.
Listen to Mike Hollin's mother share what her son told her about the shooting and how he reacted when she told him his teammates had been killed below:
Ms. Brenda shared she had dinner with her son the day before the shooting and he talked about how excited he was to go on the field trip to Washington D.C. Turns out, Hollins wasn't a student in the course on African American playwrights. He said he had been encouraged to go on the field trip by D'Sean Perry, who he was really close to.
Brenda said her son told her that he did NOT know Chris Jones Jr. and that they only interacted once on the trip, with each of them saying to the other, "What's up?"
ON THE ROAD TO RECOVERY: UVA shooting victim Mike Hollins is starting to walk again during hospital treatment: https://t.co/Xy1P0jLqiK ... These photos provided by a family rep show Hollins with his mom, brother and a family friend. pic.twitter.com/8ykeupA0wG

— WDBJ7 (@WDBJ7) November 17, 2022
The injured football player had emergency surgery Sunday night (Nov. 13th) and another surgery Tuesday (Nov. 15th) to explore damage to his kidneys and abdomen. Brenda said he has been taken out of intensive care, removed from a ventilator and walked for the first time on Wednesday (Nov. 16th).
Mike Hollins is expected to graduate with a bachelor's degree from UVA in December. He has four more papers to write to receive his degree, which he he's determined to do in honor of his fallen classmates.
On Saturday...
A public memorial service will be held on Saturday at 3:30 p.m. at John Paul Jones Arena to honor the lives of the three students we lost, and to offer support for the two additional students who were wounded. https://t.co/Jxd9hzn7Ij #UVAStrong pic.twitter.com/eFOI25qdk0

— UVA (@UVA) November 17, 2022
The University of Virginia will hold a public memorial service at John Paul Jones Arena on Saturday at 3:30pm to honor the lives of the three students killed in a shooting and to offer support to two additional students who were injured.
ODU, Virginia Tech, JMU and Liberty to wear decals honoring UVA players who died in shooting. @13NewsNow https://t.co/P5W2tBKvqE

— Mike Gooding 13News Now (@13MikeGooding) November 17, 2022
The University's Department of Athletics also announced that the Saturday home football game against Coastal Carolina University has been canceled.
Prayers for everyone involved in this tragedy.
Photo: Henrico County Jail/UVA Football
​ ​
​ ​ ​