Tia Mowry Says She Can Pinpoint The Exact Moment She Knew Her Marriage Was Over + Cory Hardrict Hops On Live To 'Reminisce' In The Car
​
Nov 18 | by _YBF
​ ​ ​ ​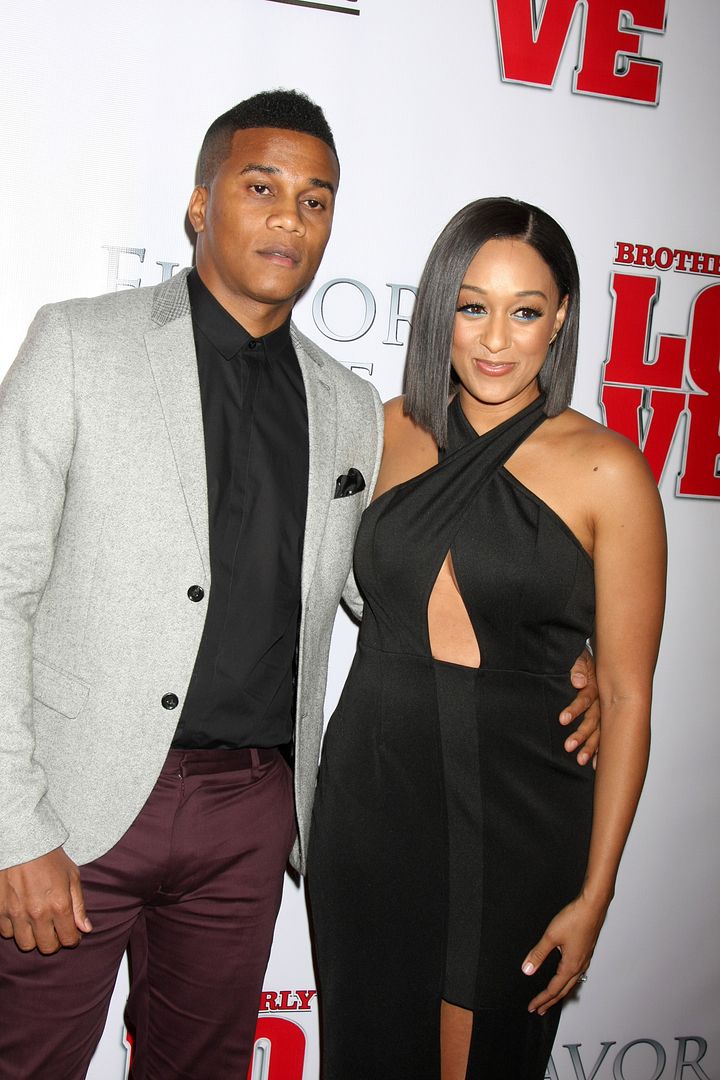 Tia Mowry appeared on daytime television where she revealed the "aha moment" she had before deciding to call it quits with her husband of 14 years, Cory Hardrict. After her interview circulated online, Cory hopped on IG Live last night to "reminisce" while sitting in the car. Deets from Tia's insightful interview and more inside….
When news broke that Tia Mowry filed for divorce from her husband of 14 years, Cory Hardrict, citing "irreconcilable differences" last month, it sent shockwaves through social media. The Hardricts appeared to be one of the happiest couples in Hollywood. However, something shifted in their marriage a few years ago, and now, Tia is opening up about it.
While the divorce symbolizes the death of their marriage, Tia has decided to change the narrative and look at her situation in a different way. Since the divorce announcement, the "Sister, Sister" alum has filled her social media timeline with self-love videos and motivational quotes.
"I knew when I really started to focus on my happiness," the 44-year-old mom said on TODAY with Hoda & Jenna. "I feel like women, we tend to focus on everybody else's happiness, making sure that everybody else is OK — meaning our children, our friends, our family, but at the end of the day, it's about self-love."

She added, "When you start to really work on yourself, love yourself, know your value and know your worth, then all of a sudden, there's this awakening. And it's not easy. It's a hard journey, but at the end of the day, I feel like it is so, so worth it," she explained as she was met with applause from the audience.
"The Game" alum, who recently partnered up with Chase and Marriott Bonvoy, shared she had an "aha moment" after the deaths of her grandmother and her sister's niece-in-law, Alaina Housley, who was one of at least 12 victims who died in the shooting at Borderline Bar & Grill in Thousand Oaks, California, in November 2018.
"There was this sadness," Tia continued. "I had just lost my grandmother. We lost Alaina Housley – both of them at the same time. There was just an aha moment in me where I said, 'You know what, you need to tap in and see what's really going on with your happiness. Life is short. Let's go. Let's start working on you and focusing on what really, really matters here...which is, at the end of the day, your peace, your love, and your happiness.'"
Despite the end of her marriage, Tia, who shared that she has been in therapy, said she still considers her marriage a "success."
"My marriage was a success. I look at it as, like, a curriculum," the "Family Reunion" star explained. "You're learning, you're growing, you're evolving, you're creating, and I was able to create with Cory some beautiful, amazing children.

"I feel like when people look at marriage that success equals longevity, but, no, at the end of the day it's, 'Are they happy? Are they thriving? Are they growing?' And I feel like that's what's most important."
She added, "It's not about staying in something because however long you are in that situation that equals success. It's about really, again, are you happy? Because life is really short."
It was a hard decision for her, but she knew she had to do something to become happy again.
"I am grateful for all the happy times we had together and want to thank my friends, family, and fans for your love and support as we start this new chapter moving forward in our lives."
Watch her interview below:
Tia also took to Twitter to share a message:
I prayer today is that my children can grow up in a less judgmental world. Where people can be free to live the life they want to live, love whom ever they want to love, and do and go after what ever it is that makes them happy. Periodt

— Tia Mowry (@TiaMowry) November 17, 2022
"I prayer today is that my children can grow up in a less judgmental world. Where people can be free to live the life they want to live, love whom ever they want to love, and do and go after what ever it is that makes them happy. Periodt," she tweeted.
In October, Tia filed for divorce from Cory, citing "irreconcilable differences." In the divorce documents, the "Sister, Sister" alum didn't specify a date of separation from the "All American: Homecoming" star. However, she asked a judge for joint physical and legal custody of their two children. She's also requested the judge terminate the court's ability to give spousal support to either party, noting they had a prenup.
In April 2008, Tia and Cory tied the knot in Santa Barbara, California. In 2011, the couple became parents for the first time, welcoming their son, Cree Taylor Hardrict, who is now 11, into the world. They became a family of four after they welcomed their second child, daughter Cairo Tiahna Hardrict, in 2018.
Hours after Tia's interview aired, her estranged husband logged into Instagram Live. While sitting in a car in the dark, he played Nas' track "Reminisce," from his new album, King's Disease III.
During the live, he never spoke a word. He just let the music play while pointing the camera at the dashboard of his vehicle. Fans were in the comments encouraging him to "fight" for his marraige, and one person even cautioned him "not to do anything stupid."
Watch the clip below:
If you're unable to see the video above, watch it below:
In the song, there's lyrics about relationships where some could speculate if it's a subliminal message about his own real-life relationship. On track, Nas raps:
"Reminisce/Relationships ain't the prettiest/I was stuck on the silliness/ Was it love that I was really in?/ We don't know until it really end/ But then, it's too late, reminisce/ Reminisce"
Earlier this month, Tia shared that she now feels like she's "always in survival mode" now that it's just her and her two children, 11-year-old son Cree, and 4-year-old daughter Cairo.
"I'm always making sure everybody is okay, everybody's alive, everybody's healthy, everybody's fed," she continued, "and making sure everybody's fine, they have no holes in their socks, et cetera."

"But for me," she continued, "it's about learning how to be aware and present with myself, and tapping in and making sure I too am taken care of. [Because] how can you take care of other people if your cup isn't filled?"
Glad she's getting back to herself and hopefully Cory is finding happiness as well.
Photo: Kathy Hutchins/Shutterstock
​ ​
​ ​ ​