Michelle Obama Decided NOT To Wear Braids In The White House, 'Nope They're Not Ready' + Forever FLOTUS' Idea Of 'Modern Mothering'
​
Nov 21 | by _YBF
​ ​ ​ ​
Michelle Obama recently revealed that there were times she wanted to braid her hair up during her husband's tenure at the White House. But she decided against it because the American people "weren't ready." Our Forever FLOTUS also spoke out about her idea of "modern mothering" and what that all entails. Everything inside…
Now that she's a private citizen (of sorts), Michelle Obama can do whatever her heart desires when it comes to what fashion she wants to wear and how she wants to style her hair. It wasn't like that during her eight years in the White House, though.
America had already chosen its first Black president and first Black First Family. Lady O felt that pulling up to an event with braids would have sent (some) American people into a frenzy.
As much as she was on the go during her two White House terms, making appearances at events, speaking at engagements, and rallying behind her husband, Forever President Barack Obama, it would have been easier to just braid her hair up and call it a day. However, Mrs. O decided not to bring on any extra attention or distractions because we all know if she did get her hair braided as First Lady, that would have made headlines for days or even weeks to come.
FLOTUS made a stop at the Warner Theatre in Washington, D.C., to promote her new book, "The Light We Carry: Overcoming in Uncertain Times," with former talk show host Ellen DeGeneres. She shared that she decided to straighten her hair because the American people were "just getting adjusted" to having a Black First Family.
While having her hair braided up would have been easier for her, she recalled, "Nope, they're not ready for it," referring to the American public, specifically people who ALWAYS had an issue with ANYTHING she did during her tenure as First Lady. She felt if she had got braids, her hair would have been used as a distraction and politicized.
"They tripped out when Barack wore a tan suit," referring to the controversy surrounding Barack Obama when he wore a tan suit in 2014. "The great indignity, the scandal of the Obama administration," she joked.
Mrs. Obama talked about how natural hairstyles can be criticized as less professional, even if it may be easier.
"We deal with it – the whole thing about, 'Do you show up with your natural hair?' Braids, y'all," Mrs. O said. "That's the African American experience …. but women in offices that are worried, 'Should I wear skirts? Should I wear pantyhose?' I hate pantyhose."
Watch the clip below:
Njeri Radway - the stylist who braided Michelle's hair for her book tour - took to social media to react to Mrs. O mentioning her braids:
Can you imagine how many racist questions about her hair she would have had to answer if she had braids or wore her hair natural in the White House? People can act obtuse now, but they definitely would have come for Mrs. Obama had she worn her natural hair.
Also...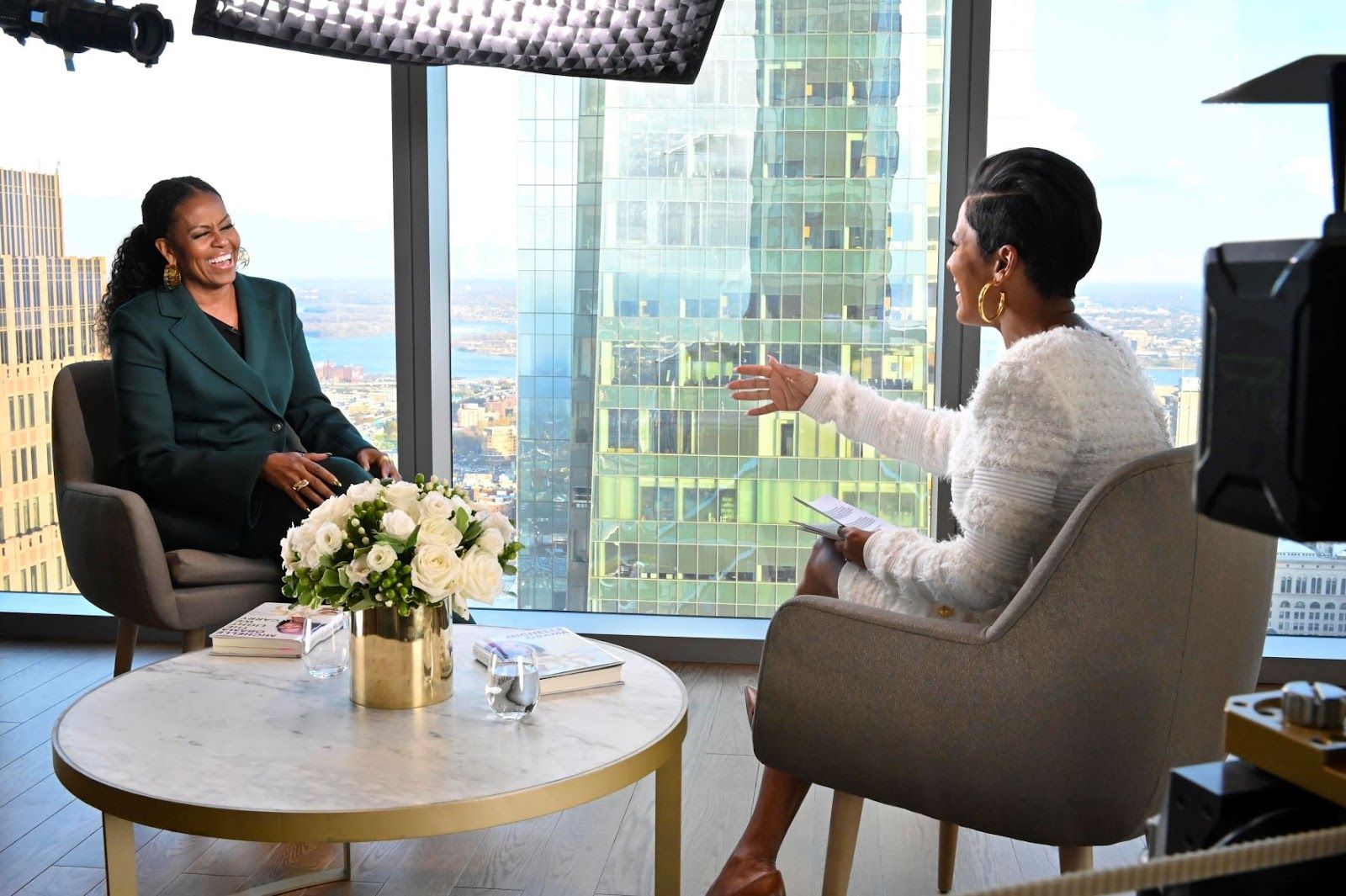 Today, Michelle Obama - rocking braids - will appear on "Tamron Hall" for a candid one-on-one conversation about "modern mothering" and how she hopes to break the cycle of placing expectations on youth, specifically female youth, about what their life should look like saying,
"I want my girls to spend some time with themselves to develop some skills to understand that they can make it with or without. That they can build their happiness with all the bells and whistles and they can be happy if they choose to only focus on their career, to never have kids. I want to make their worlds bigger for them."
Watch the full clip below:
BONUS:
The sweetest backstage meetup we've seen! Michelle Obama greeted a 100-year-old guest and her family who came to see her on her "The Light We Carry" book tour stop over the weekend.
"The Light We Carry," an inspiring follow-up to her critically acclaimed, #1 bestselling memoir "Becoming," is on bookshelves and online.
Photo: AP Photo/Jose Luis Magana/Tamron Hall's Show
​ ​
​ ​ ​