Saweetie Is Shocked By 'Misogyny In Hip Hop' After Joe Budden Says She Needs To 'STFU'
​
Nov 23 | by _YBF
​ ​ ​ ​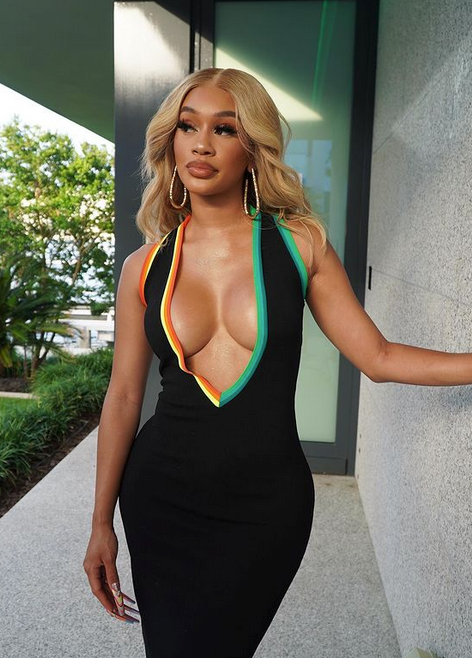 Saweetie seems shocked by "misogyny in Hip Hop" after Joe Budden said she needs to "shut the f*** up" for "starting" drama with her ex-boyfriend, Quavo, as he mourns the death of his nephew, Takeoff. Deets inside…
We're not sure where Saweetie has been, but she's seemingly shocked at the magnitude of misogyny in Hip Hop after Joe Budden had some things to say about her.
The rapper-turned-podcaster said Saweetie should "shut the f*ck up" after hearing lyrics from her newly released EP, The Single Life.
So here's the deal…
On her new EP, the Bay Area native addressed the rumors about her love life on "Don't Say Nothin." As you'll recall, there were rumors that the "ICY GRL" rapper was dating Lil Baby after her highly-publicized breakup with Quavo. Joey found the track distasteful since Quavo is currently mourning the death of his nephew, Takeoff. Earlier this month, Takeoff was shot and killed in Houston.
On the track, she raps, "Why n*ggas always speakin' on who I'm f*ckin' on? / He must've got excited when I FaceTimed with nothin' on / A hunnid K, please, know how much paper I be touchin' on? / That's light, better check my net worth / Post a pic' in his sweatshirt, I bet it have my ex hurt / That's what I get for kissin' on these frogs / He got mad and told my business to the blogs."
Joe Budden said Saweetie should have waited to release the EP out of respect since Quavo, who is mourning Takeoff.
"Saweetie gotta shut the f*** up," he started off saying about Saweetie's new EP on his "Joe Budden TV" podcast.
"Did you f*ck Offset or not?," Joe questioned, referencing rumors that Saweetie slept with Offset, Cardi B's husband. There were rumors that the Migos broke up "over a b*tch" and some people assumed the breakup was caused by Offset sleeping with Saweetie.
When Joe Budden's co-host pointed out his "bad timing" of asking about Offset, that's when he went into a rant against Saweetie.

"It was bad timing for whatever she was saying in that freestyle," Joe said. "It ain't the time for your freestyle. Because what I heard, I honestly didn't really hear nothin' directed to Quavo. Like, I just keep hearing Lil Baby and I think people keep confusing it with Quavo like they did last time. But either way, it ain't the time for confusion. It ain't the time for none of that after they just lost their brother [cousin] and nephew. Push it back. You been quiet. No need to come shake the table now," he continued.
Peep the clip below:
No disrespect to Takeoff, but didn't Quavo start sneak dissing Saweetie on wax FIRST?!
In October, Quavo and Takeoff released their debut album as a duo, Only Built for Infinity Links. On the track titled "Meesy," Quavo drops subliminal lyrics about his ex-girlfriend (presumably Saweetie) sleeping with someone close to him, which fans believe was either Offset or Lil Baby.
"I said, 'Caresha please' 'cause she too messy (Woo, please)," Quavo rapped, referencing Saweetie's appearance on Yung Miami's podcast. "B*tch fucked my dawg behind my back, but I ain't stressin' (Not at all)/You wanted the gang, you shoulda just said it, we would have blessed it (You shoulda just said it)/Now sh*t got messy (Uh)."
Hmph.
The "My Type" rapper caught wind of what Joe said about her, so she took to Twitter to respond.

"saweetie needs to STFU????? ok joelisha," she tweeted.

She later added, "Is misogynistic behavior normal for HIP HOP culture now? guess so"
Sis, where have you been? Misogyny and sexism are deeply rooted in Hip Hop and Black women have largely been the targets of both.
Do you think what Joe Budden said about Saweetie was misogynistic?
By the way...
Saweetie spoke to Complex magazine recently about her new EP and she talked about the passing of Takeoff.
BONUS:
On a more lighter note, Joseph Zambrano, the assistant to O's editor at large Gayle King, shared this funny clip of himself playing Saweetie's new musical offering for his boyfriend. Get your laugh on above.
Photo: Saweetie's IG
​ ​
​ ​ ​