Trump Declines Kanye West's 2024 VP Running Mate Offer + Ye Makes Presidency Announcement With Bestie Nick Fuentes & Milo Yiannopoulos - Who Many Say Are Proud White Supremacists & Anti-Semitic Incels
​
Nov 25 | by _YBF
​ ​ ​ ​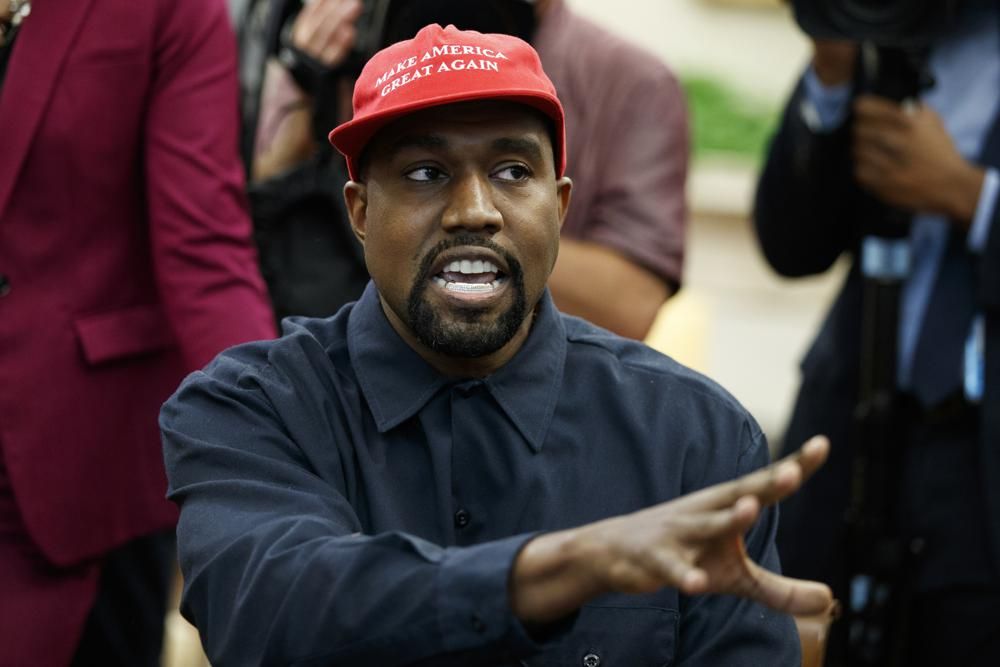 Ye, formerly known as Kanye West, announced he's running for president again, and he asked former president Donald Trump to be his running mate. Trump declined his offer and told him he was going to lose if he did run. Also, folks are blasting Ye for aligning himself with Nick Fuentes and Milo Yiannopoulos, who many say are proud white supremacists and anti-Semitic incels. Proof inside…
Ye continues his streak of associating himself with problematic people. He's running for president in 2024, after his failed attempt in 2020, and he has surrounded himself with questionable people.
On Tuesday, Ye and Nick Fuentes, whom the Anti-Defamation League describes as a white supremacist, were seen walking through Miami International Airport together, seemingly dressed alike in blue jackets, heading to visit Donald Trump's Mar-a-Lago resort in Florida. Watch the clip below:
Lol. @kanyewest is really out here in matching outfits and catching flights with Nick Fuentes — the white nationalist who called Black voters the "N*gger vote." pic.twitter.com/EOJHOS0jZd

— Benjamin Dixon (@BenjaminPDixon) November 23, 2022
After their dinner, Ye tweeted:
First time at Mar-a-Lago

Rain and traffic

Can't believe I kept President Trump waiting

And I had on jeans Yikes

What you guys think his response was when I asked him to be my running mate in 2024?

— ye (@kanyewest) November 23, 2022
"First time at Mar-a-Lago Rain and traffic Can't believe I kept President Trump waiting And I had on jeans Yikes What you guys think his response was when I asked him to be my running mate in 2024?"
Ye posted a video, titled "Mar-A-Lago Debrief," on Twitter following his meeting with Trump, where he shared details about their conversation. The Chi-town rapper revealed former President Donald Trump began "screaming" at him during dinner at the Mar-a-Lago resort and told the rapper if he ran in 2024, he would lose.
"I think the thing Trump was most perturbed about [was] me asking him to be my vice president," Ye said. "I think that was lower on the list of things that caught him off guard."
"When Trump started basically screaming at me at the table telling me I was going to lose, I mean has that ever worked for anyone in history?" the rapper said. "I'm like whoa hold on, hold on, hold on. You're talking to Ye," he said in the video.
In the clip, Ye also revealed Trump made a disparaging remark about his ex-wife, Kim Kardashian, after revealing why he pardoned Alice Marie Johnson in 2018.
"You can tell her I said that," Trump said to Ye.
It's unclear what Trump said about Kim K as the video censored the exact words that Ye alleged Trump said about Kardashian.
"And I was thinking like, that's the mother of my children," Ye said.
The clip was one of several videos posted by Ye on Thanksgiving with the slogan "YE24." Check it out below:
#YE24 pic.twitter.com/DyIhMU5By6

— ye (@kanyewest) November 25, 2022
By the way, Ye has not filed the basic paperwork to become a candidate yet, according to Business Insider.
Nick Fuentes, who frequently promotes racist and anti-Semitic conspiracy theories, is well-known for his participation in the white supremacist "Unite the Right" rally in Charlottesville in 2017. Not only that, he hosts an online show called "America First with Nicholas Fuentes," where he has been known to make anti-semitic comments. Basically, two peas in a pod since Ye has been receiving backlash for doubling down on his anti-Semitic comments.
Kanye West with Milo Yiannopoulos, Sneako, and Nick Fuentes pic.twitter.com/vZUGqqlM3l

— RapTV (@Rap) November 25, 2022
Nick, who is very open and honest about being a white nationalist, has made numerous disparaging remarks about the black community and has even advocated for military intervention in black neighborhoods. He has also denied the Holocaust ever happened.
Below are a few examples of Nick Fuentes' racist and misogynist comments:
Last week, white supremacist Nick Fuentes called for the military to slaughter people in Black neighborhoods.

"Just send the military in, Do what must be done. Send the military into these Black neighborhoods. They're never gonna vote for us." https://t.co/eYibAwbD1U pic.twitter.com/usdUzhLAcD

— It's Going Down (@IGD_News) November 24, 2022
'Groyper' leader on segregation:

"Enough with the Jim Crow stuff. Who cares? 'Oh, I had to drink out of a different water fountain.' Big f—ing deal...oh no, they had to go to a different school...And even if it was bad, who cares?...it was better for them, it's better for us." pic.twitter.com/ZJ7LqpTHgL

— Guy Benson (@guypbenson) November 18, 2019
On women voting: pic.twitter.com/WOUVFDuKer

— Frank Luntz (@FrankLuntz) March 1, 2022
Folks are disappointed that he would align himself with people who seem to be anti-Black.
All of you idiots still standing with @kanyewest. Do you see who he went to Mar-A-Lago with? Two virulent racists in Milo and Nick Fuentes. You fools see why I said he can go to hell? https://t.co/dqyQHZKTOg

— rolandsmartin (@rolandsmartin) November 23, 2022
Donald Trump and Kanye West have befriended Nick Fuentes, who promises "the most racist, sexist, Antisemitic, Holocaust-denying speech in all of Dallas this weekend."

Tell me who your friends are, and I will tell you who you are.pic.twitter.com/VYbBoInPAt

— Ritchie Torres (@RitchieTorres) November 25, 2022
TikTok took this down so let me just drop this here for anyone who doesn't know Nick Fuentes, @kanyewest's newest friend pic.twitter.com/9DEXTjKUsV

— Benjamin Dixon (@BenjaminPDixon) November 24, 2022
Kanye West is gone forever he's hanging out with Nick Fuentes. No wonder he's been hating on Jewish people lately. God this is just sad. pic.twitter.com/KT81j4jeeg

— KEEM (@KEEMSTAR) November 23, 2022
A few days ago…
Ye appeared to reveal his presidential ambitions and who would be by his side to make them happen.
"This is Milo right here, working on the campaign," Ye said, referring to conservative provocateur Milo Yiannopoulos, an alt-right agitator who has been accused of antisemitism.
"Is that an announcement?" Milo replied.
"I guess it is," Ye answered.
"Thanks, I accept," Milo said, laughing.
Watch the clip above.
Apparently, Milo, who recently worked as an intern for Republican congresswoman Marjorie Taylor Greene, is just as bad as Nick when it comes to being a racist.
Newsweek reports:
Yiannopoulos has also faced allegations of antisemitism, helping to land him on the watchlist for groups like the Anti-Defamation League and the Southern Poverty Law Center.

The SPLC blasted Yiannopoulos in a 2018 blog post explaining that the former Breitbart editor often appeared to sympathize with racist and prejudiced thinking.

In June of that year, he trolled a Jewish journalist by donating $14.88 to her PayPal account, a number used to signal a racist ideology.

That amount, $14.88, is loaded with antisemitic symbolism, the SPLC explained in its post. Fourteen is used to denote the racist "14 Words" mantra about securing "a future for white children," and 88 means "Heil Hitler," since H is the eighth letter of the alphabet.

The digits 1488 are widely embraced by neo-Nazis and white supremacists, per the SPLC.

Following Yiannopoulos' dog whistle, Venmo and PayPal barred the far-right troll, The Wrap reported at the time. Yiannopoulos has also generated controversy for targeting transgender people, and Twitter banned him in 2016 for harassing Ghostbusters actor Leslie Jones. He lost a book deal the following year over comments he made in which he seemingly condoned child abuse.
And THIS is how Ye chose to work on his presidential campaign?!
To the Black Ye supporters: Is this STILL y'all king?
Photo: AP Photo/Evan Vucci, File
​ ​
​ ​ ​