Ray J Dines With Kanye West & Alt-Right Troll Milo Yiannopoulos + Ye & Kim K Speak Out About Balenciaga's Kid Campaign Scandal
​
Nov 28 | by _YBF
​ ​ ​ ​
Ray J linked up with Ye (formerly known as Kanye West) and alt-right troll Milo Yiannopoulos, who is working on Ye's presidential campaign, for dinner in Los Angeles last night. The outing comes on the heels of Ye and his ex-wife Kim Kardashian speaking out against Balenciaga's controversial campaign that contained alleged "sexualized" images of children. More inside…
Dinner with the exes!
Kanye West and Ray J, Kim Kardashian's exes, linked up for dinner yesterday, where they were joined by alt-right troll Milo Yiannopoulos, who is working on Ye's presidential campaign.
After showing up on the red carpet together at the screening of Candace Owens' documentary last month, Ye and Ray made their way to Giorgio Baldi in the Pacific Palisades area of Los Angeles. It's reported that they reserved a table for six, but it's unclear who else joined the dinner.
Kanye West grabbed dinner with radical right-wing extremist Milo Yiannopoulos Sunday night, and one of the dinner guests -- Ray J. https://t.co/JBSMkwFyim

— TMZ (@TMZ) November 28, 2022
See more photos here.
The outing comes on the heels of Ye and Nick Fuentes, whom the Anti-Defamation League describes as a white supremacist, meeting up with former president Donald Trump at his Mar-a-Lago resort. Apparently, the meeting didn't end well. After the meeting, Ye posted a video where he "debriefed" his meeting with Trump. He revealed former President Donald Trump began "screaming" at him after he told him he was running for president and told the rapper if he ran in 2024, he would lose. Ye also asked him to be his running mate.
"When Trump started basically screaming at me at the table telling me I was going to lose, I mean has that ever worked for anyone in history?" the rapper said. "I'm like whoa hold on, hold on, hold on. You're talking to Ye," he said in the video.
Trump bashed Ye for bringing Nick Fuentes to a meeting that was supposed to be a one-on-one meeting. DT said Ye crossed the line bringing Nick and others to Mar-a-Lago for the dinner.
"So I help a seriously troubled man, who just happens to be black, Ye (Kanye West), who has been decimated in his business and virtually everything else, and who has always been good to me, by allowing his request for a meeting at Mar-a-Lago, alone, so that I can give him very much needed 'advice,'" Trump wrote in a post on his Truth Social platform Saturday night.
"He shows up with 3 people, two of which I didn't know, the other a political person who I haven't seen in years. I told him don't run for office, a total waste of time, can't win. Fake News went CRAZY!," he continued.
The gworls are fighting! And not "who just happens to be black...."
In other news…
On Saturday, photogs caught up with Ye after he went to a Messianic Jewish congregation and spoke with the "minister" about his relationship with Jews after some controversial statements.
Ye, who collaborated with the French brand before they cut ties with him last month over anti-Semitic comments, spoke with paparazzi about how the Balenciaga scandal proves celebrities are being controlled. The fashion house has been receiving backlash for a recent Christmas campaign that contained alleged "sexualized" images of children.
"They tried to destroy my businesses at the same time, and the world saw it, and no one is saying anything," he said. "This just shows you all celebrities are controlled. You don't see no celebrities talking about the Balenciaga situation, right? So that just shows you: All of these celebrities out here—don't let them influence you in any way, because they're controlled by the people who really influence the world."
During his interaction with the paparazzi, he also called out Elon Musk for not reinstating controversial conspiracy theorist Alex Jones on Twitter.
Watch the clip above.
Kanye's ex-wife, Kim Kardashian, also spoke out about the Balenciaga scandal.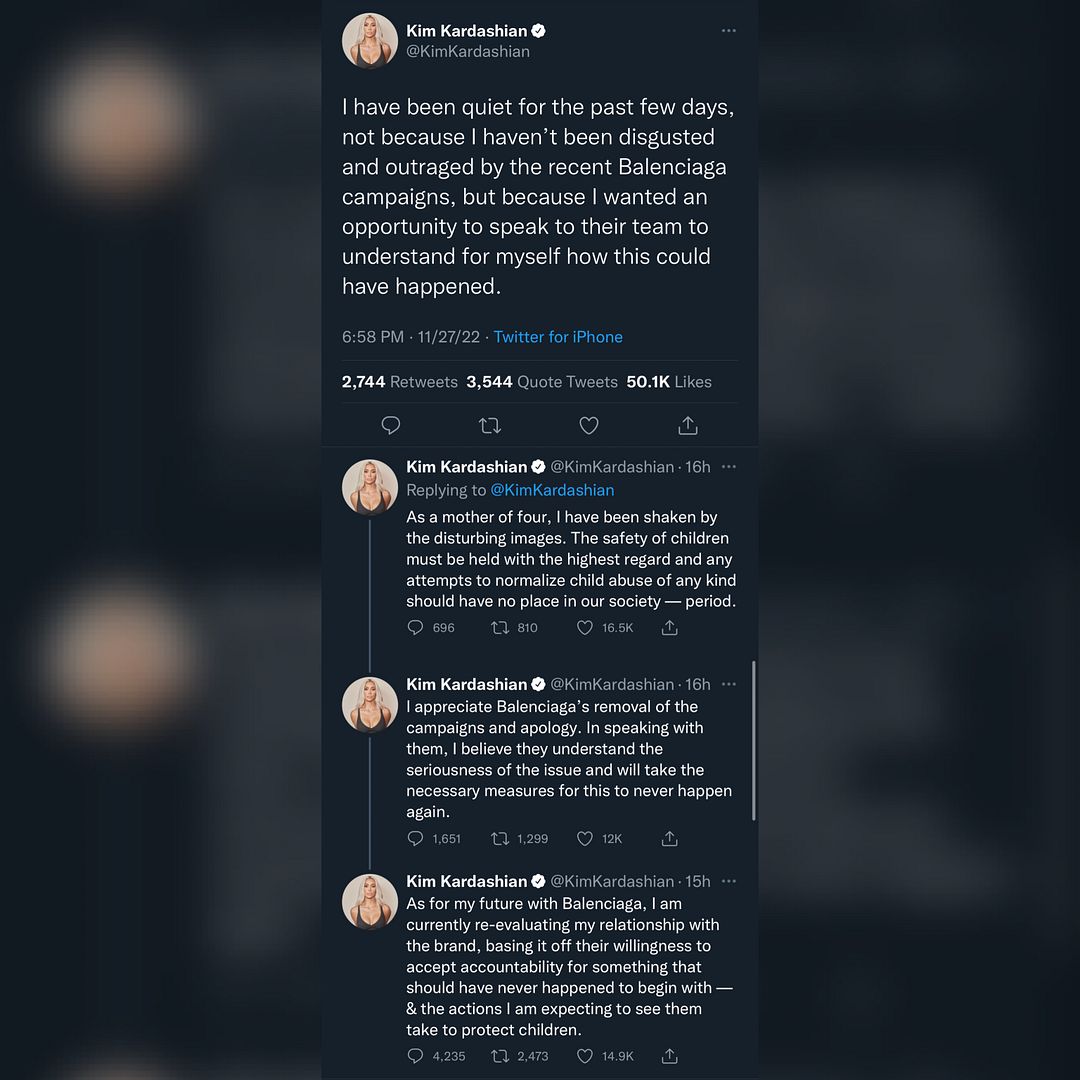 "I have been quiet for the past few days, not because I haven't been disgusted and outraged by the recent Balenciaga campaigns, but because I wanted an opportunity to speak to their team to understand for myself how this could have happened," Kim K tweeted.
"As a mother of four, I have been shaken by the disturbing images. The safety of children must be held with the highest regard and any attempts to normalize child abuse of any kind should have no place in our society — period," she continued. "I appreciate Balenciaga's removal of the campaigns and apology. In speaking with them, I believe they understand the seriousness of the issue and will take the necessary measures for this to never happen again."
As for her "future with Balenciaga," she said she is "currently re-evaluating my relationship with the brand, basing it off their willingness to accept accountability for something that should have never happened to begin with — and the actions I am expecting to see them take to protect children."
Oh. So basically, she's saying that once everything dies down, everyone will forget and go back to normal. Got it.
Last week, Balenciaga was called out for a Christmas campaign that featured children holding the brand's "plush bear bags," which wore S&M-style harnesses. Another advertisement for their "hourglass bag" displayed documents from the Supreme Court related to child pornography cases.
No way this campaign was "not approved". An instagram apology and a promise of investigation is simply not enough. This is sickening. This is child abuse. There is no reason why #Balenciaga should have even thought that this campaign was okay. Simply disgusting. #BalenciagaGate pic.twitter.com/lJAWyQoU0r

— Eloy Alvarez (@realEloyAlvarez) November 23, 2022
Since pulling the campaign, the high-end fashion brand has issued two apologies.
In a statement posted to their Instagram Stories, the label apologized for the campaign:
"We sincerely apologize for any offense our holiday campaign may have caused. Our plush bear bags should not have been featured with children in this campaign. We have immediately removed the campaign from all platforms."
the brand "Balenciaga" just did a uh..... interesting... photoshoot for their new products recently which included a very purposely poorly hidden court document about 'virtual child porn'

normal stuff pic.twitter.com/zjMN5WhZ0s

— shoe (@shoe0nhead) November 21, 2022
Hours later, Balenciaga issued a second apology after social media users pointed out that documents appearing to show court filings related to a controversial child pornography-related case were on display.
Balenciaga APOLOGY IS BS!!!

Why are photos like this…. STILL POSTED#cancelled #boycott #balenciaga #savethechildren pic.twitter.com/j9WuUAdcZg

— (@RIPTWITTA) November 22, 2022
"We apologize for displaying unsettling documents in our campaign," the brand said in their second apology. "We take this matter very seriously and are taking legal action against the parties responsible for creating the set and including unapproved items for our Spring 23 campaign photoshoot. We strongly condemn abuse of children in any form. We stand for children safety and well-being."
Now, Balenciaga is SUING its production company for $25 million.
The New York Post reports:
The fashion house brought the suit Friday against production company North Six, Inc. and set designer Nicholas Des Jardins and his eponymous company for the inclusion in one of the ads of legal documents from a US Supreme Court decision on child porn laws. Balenciaga is bringing the case "to seek redress for extensive damages defendants caused in connection with an advertising campaign Balenciaga hired them to produce," the Manhattan Supreme Court summons alleges.

Balenciaga claims North Six and Des Jardins included the images of the court docs without its knowledge — which was "malevolent or, at the very least, extraordinarily reckless," the filing states.

"As a result of Defendants' misconduct, members of the public, including the news media, have falsely and horrifically associated Balenciaga with the repulsive and deeply disturbing subject of the court decision," the court papers charge. "Defendants are liable to Balenciaga for all harm resulting from this false association."

The advertisements came out at Paris Fashion Week and supported the company's spring/summer 2023 collection.
Well that's odd since Balenciaga would have the final approval over the campaign.
After filing the lawsuit, Balenciaga took to Instagram to remove all images from its platform and issued another apology:
Thoughts?
EXTRAS:
1. A single-engine plane crashed into a 100 ft. power line in Maryland on Sunday, and its pilot and only passenger were rescued hours later. STORY
2. The gunman accused of killing 10 people and wounding three in May at a grocery store in a predominantly Black neighborhood of Buffalo, New York, pleaded guilty to state charges of domestic terrorism as a hate crime, murder and attempted murder. STORY
Photo: Featureflash Photo Agency/Shutterstock
​ ​
​ ​ ​