Shanquella Robinson's Mother Demands Answers From FBI, Frustrated Over Lack Of Information About Her Daughter's Death In Mexico As Arrest Rumors Circulate
​
Dec 02 | by _YBF
​ ​ ​ ​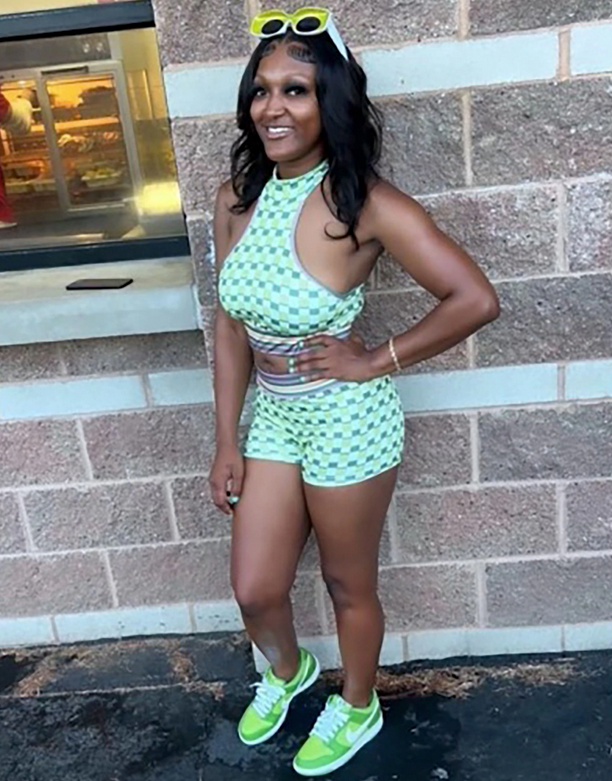 The mother of Shanquella Robinson, the woman who mysteriously died in Mexico on vacation with friends, is demanding the FBI give her information about her daughter's death. Salamondra Robinson said the FBI, which announced they were investigating, has not told her anything about the investigation. Mexican prosecutors issued an arrest warrant last week, and there have been rumors that the person has been arrested, but that has not been confirmed. More details inside...
The mother of Shanquella Robinson, a 25-year-old businesswoman, is still seeking answers less than two weeks after the FBI said it was launching an investigation into her daughter's mysterious death in Mexico.
On October 28th, Shanquella traveled from Charlotte, NC, to a luxury villa in Cabo, Mexico, with six friends to celebrate one of their birthdays. Sadly, Shanquella was found dead the next day inside the swanky Fundadores Beach Club in San José del Cabo.
A video of a woman assaulting Shanquella while she was naked surfaced online, leaving more questions than answers.
"I'm just trying to wait for somebody to be arrested. The FBI is not telling anything," Shanquella Robinson's mother, Salamondra Robinson, told the UK's Independent on Thursday.
Shanquella's friends initially told her mother and father that she died from alcohol poisoning. A local doctor was with Shanquella for three hours before she was pronounced dead.
After leaving her body in Mexico, the friends However, the woman's death certificate revealed she suffered a "severe spinal cord injury and atlas luxation," an instability of neck vertebrae.
"I couldn't confront them really, because they were gone," Ms Robinson told The Independent on Thursday. "I did talk to police. I didn't talk to the other ones [again] because I didn't see them anymore. They came [to our home] before the autopsy came."
Mexican authorities said in a statement that they are now investigating Shanquella's death as a feminicide, a term used by local police to describe the homicide of a woman on account of her gender.
Last week, Mexican prosecutors issued an arrest warrant for a suspect in the 25-year-old's death, which was determined to be the result of a "direct attack." However, the suspect's identity has not been revealed, and it is unclear whether any arrests have been made.
Rumors have been circulating on social media that an arrest has been made.
Travel Noire reported an arrest was made in Shanquella's death:
Law enforcement appears to be one step closer to seeking justice in the untimely death of 25-year-old Shanquella Robinson. Travel Noire previously reported on the public outcry to hold one of Robinson's friends accountable for the crime through extradition and prosecution in Mexico.

Those pleas may have been answered as reports circulate that Daejhanae Jackson has been arrested in connection with the crime.
There are also rumors that her "friends" set her up and killed over a PPP loan, which has not been confirmed.
CNN confirms Mexican prosecutors are seeking to extradite one of Shanquella's friends as a suspect in the case, however, no one has been charged as of yet. Authorities have not released the names of the friends who were with Shanquella the day she died.
Local news station WSOC-TV has been trying to track down four of the friends who were on the trip with Shanquella. Channel 9's Joe Bruno traveled across North Carolina to try and get some answers.
One of the unidentified friends who was in Mexico with Shanquella had a date in traffic court at the Gaston County Courthouse recently. It's reported, the male friend pleaded guilty to a minor speeding charge, paying $15 in addition to fees. The reporter wanted to talk to the "friend" after the hearing, but he was not present. An attorney appeared on his behalf.
We drove about 264 miles today trying to reach any of the people on the trip with NC ties. We were unsuccessful. But outside one of the doors, I found this taped business card for a Forsyth County investigator. The Forsyth County Sheriff's Office declined to comment pic.twitter.com/E4c4oZpY3I

— Joe Bruno (@JoeBrunoWSOC9) December 1, 2022
The reporter drove to Jameston, which is in Guilford County, Winston-Salem, and Greensboro, with no luck. According to the reporter, nearly everyone on the trip has changed or disconnected their phone numbers.
There's a lot of misinformation circulating regarding Shanquella Robinson's case. We're praying the authorities announced an arrest (or SEVERAL) soon!
Photo: Shanquella's Family
​ ​
​ ​ ​