Caresha vs. Gina AGAIN: Diddy's Harem Drama Reaches A Boiling Point After New Baby Mama & 'New Girlfriend' Revealed, Diddy Says Yung Miami Is NOT His Side Chick
​
Dec 14 | by _YBF
​ ​ ​ ​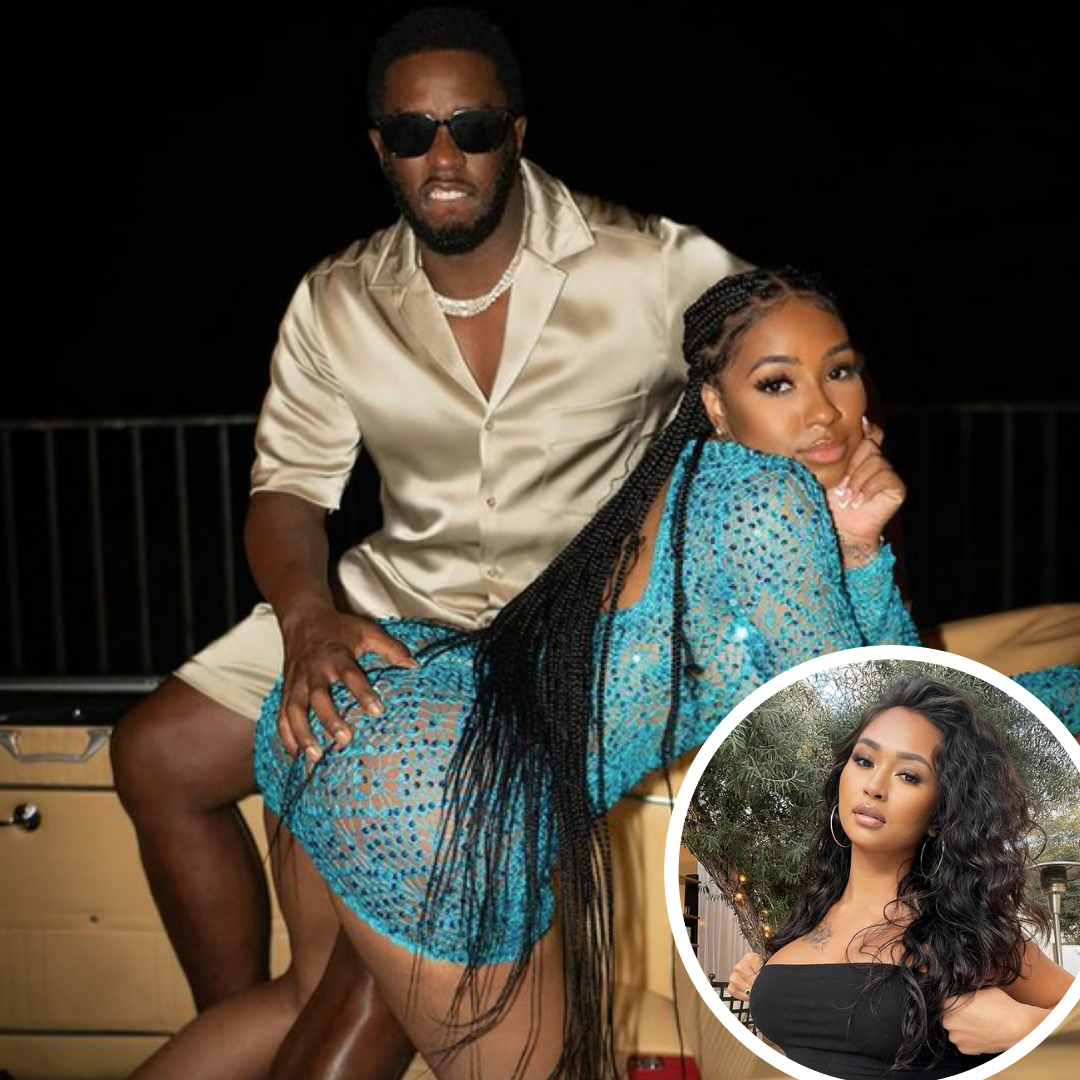 There's drama in Diddy's harem again. Yung Miami/Caresha and Gina Huynh feuded online last night after Gina trolled the City Girls rapper after Diddy announced he welcomed a daughter with another woman. Also, the Hip-Hop mogul hopped online to set the record straight about his "situationship" with Caresha following her online dispute with a blogger. Deets inside…
The "Diddy Love Triangle" is more like a pentagon as new details about Diddy's "social" life surface.
Over the last few days, Diddy has been heavy in the headlines for his extracurricular activities. It has been discovered that the Bad Boy honcho welcomed a daughter a few months ago with a woman named Dana Tran. He made the announcement on Twitter last Saturday, sharing that he recently fathered a baby girl named Love Sean Combs. According to reports, the baby was born on October 15th, and it's Diddy's seventh child.
Right after the baby announcement, photos of the 53-year-old mogul coupled up with a 20-something-year-old social media influencer named Shawntya Joseph in NYC surfaced online, leading folks to believe she's his new addition to his harem.
As all of this information came to light, Diddy's "sometimey" side chick Gina Huynh joined the chat to troll Caresha, following their spat earlier this year. Gina took to Instagram to reignite her beef with Caresha, mocking her for arguing over Diddy when he had a whole baby on her.
"When she beefin with you over a [ninja emoji] but whole time he got somebody else pregnant," she captioned the video while she mouths the lyrics to a song saying, "you stupid b*tch."
"City Girls down 1000," she wrote in the caption.
Never one to back down, Caresha hopped on Twitter to clap back:
"Gina you been down bad ever since I came into the picture h*e!" Caresha tweeted. "You been crying for a baby for 10 yrs h*e you been around as a b*tch that eat p***y and d*ck when he feel like it YOU A EATER!! you the same b*tch that was crying on Tasha k cause you wanted a baby poor sushi!!!!"
According to the "Act Up" raptress, Diddy called it quits with Gina after the Billboards Awards in May. That's when Caresha and Gina first got into it online/
"You want a baby b*tch. I have Career hoe You a CERTIFIED FREAK!!! You haven't heard from diddy since the awards reminiscing on abortions let that hurt go Chun-Li," she continued.
After Caresha's rant, Gina hopped on IG Stories and shared a picture of herself sticking her tongue out with the caption, "Caresha you know you wanna taste this yum yum sauce."
The back and forth continued with Yung Miami, tweeting, "If I wanted you to eat my p***y diddy would've had you on your knees h*e!!! You a eater!!!!!!! B*tch you a munch!!!" she added. "Y'all h*es play with diddy & not me! Fr I'm on one with whatever whenever at any giving time. I'm a spicy Mayo type of b*tch btw I don't do brown sauce," she wrote in reference to Gina saying she wanted to taste her yum yum sauce. Lordt. Peep the tweets above.
Also…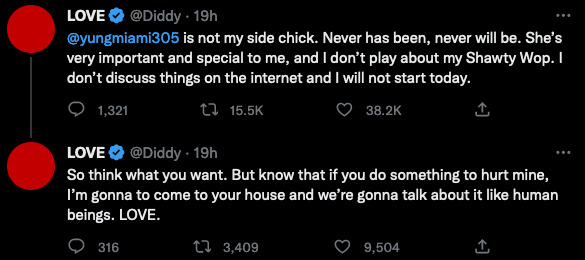 Just days after Diddy announced the birth of a daughter, the Bad Boy honcho made it clear where he stands with Yung Miami: "I don't play about my Shawty Wop."
Yesterday (Dec. 13th), Caresha was trending after she got into a feud with DJ Akademiks. He called her a "side chick" when news broke that Diddy had welcomed a daughter.
"@YungMiami305 is not my side chick," the 53-year-old wrote. "Never has been, never will. She's very important and special to me, and I don't play about my Shawty Wop. I don't discuss things on the Internet and I will not start today."
Then, he issued a warning for anyone who comes for the people he loves.
"So think what you want," he continued. "But know that if you do something to hurt mine, I'm gonna to come to your house and we're gonna talk about it like human beings. LOVE."
Well, there you have it. Both Diddy and Caresha have said several times that they are "single" and dating.
It appears rapper The Game wants to be the next man up. After the west coast rapper asked where's the next Yung [insert city] for other cities since Yung Miami is taken, and he said he wants to pay somebody's bills for "holding it down" like her.
Yung Miami responded in TSR's comments that she's single.
We wonder if he'll shoot his shot.
Photos: Instagram
​ ​
​ ​ ​