Lanisha Cole Responds To Trolls Who Keep Making 'Nick Cannon Baby Mama' Jokes, Praises Her 'Bestie' Brian For Holding Her Down
​
Dec 22 | by _YBF
​ ​ ​ ​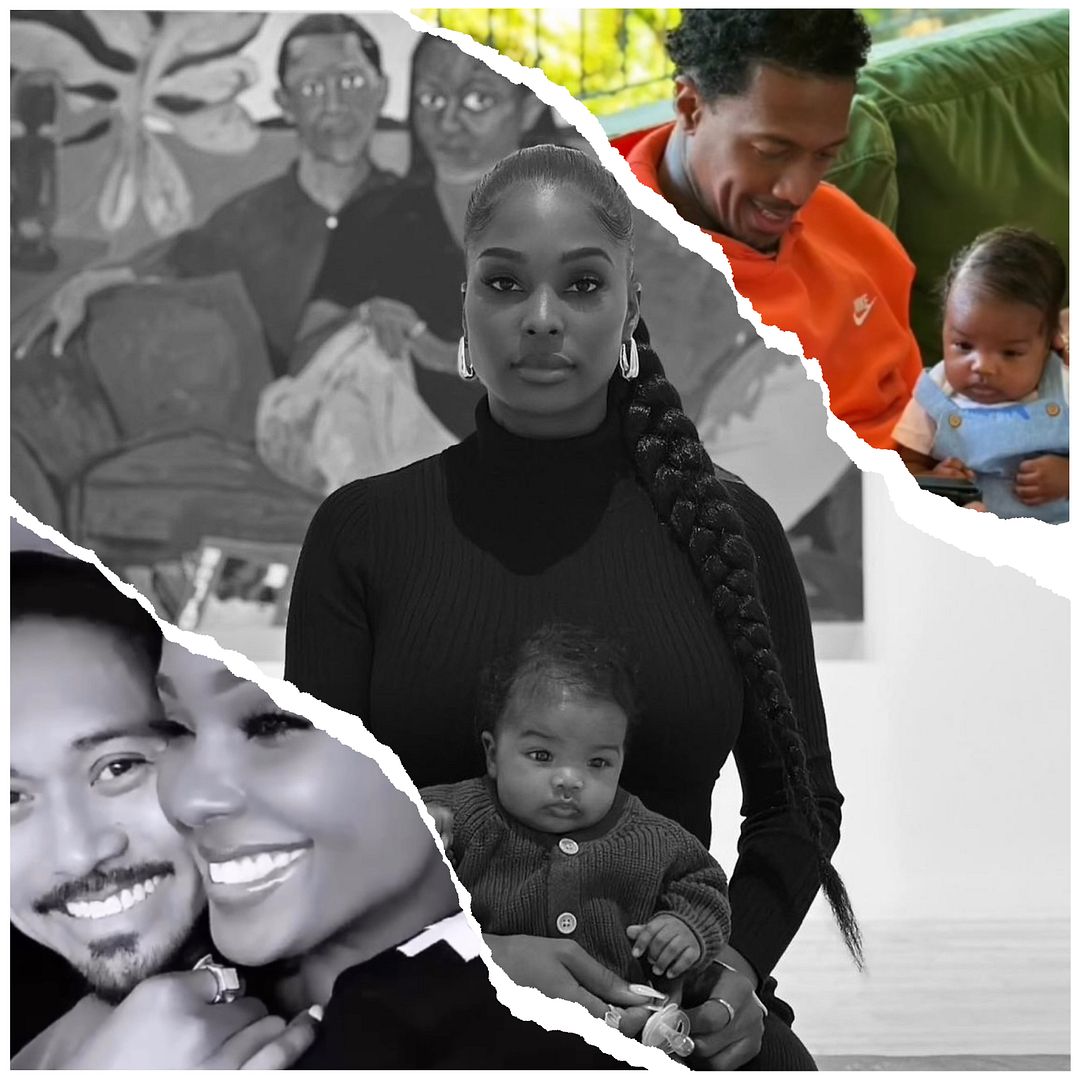 Lanisha Cole is taking to social media to let folks know exactly how she feels about the "Nick Cannon baby mama" jokes while praising her "bestie" Brian for being there for her. The truth session came after she shaded her daughter's father, Nick Cannon, over "fake photo-ops" with his other kids and their mothers. Catch up inside…
UPDATE:
It appears all is well now.
Lanisha Cole linked up with Nick Cannon to take their daughter, Onyx, to her first class. She shared that she and Nick have co-parenting on lock.
"Co-parenting is a breeze when you see eye to eye. It's all about this little one, our Onyx," she said. "Fun fact…Nick was playing "Isn't She Lovely" by Stevie Wonder in the delivery room to welcome Onyx into this world. My heart smiles every time I hear this song playing…It will forever be special. It's her song. We took her to her first class today! Teamwork makes the dream work @nickcannon"
The day before, Nick was on daddy duty with Abby De La Rosa and their three kidds, Zillion, Zion, and Beautiful.
-------------------------------------------
After seeing holiday photos of Nick Cannon with his other children and their mothers, Lanisha Cole took to social media to react. Not only that, she checked trolls who keep hurling "baby mama" insults at her.
The social media drama started a few days ago when Lanisha, who is the mother of Nick's 9th child, Onyx Ice Cole Cannon, took to her IG Stories to send a subliminal message to her ex, Nick Cannon, who is the father of 11 children and expecting another this month. It seems she's not here for "fake photo-ops."
"There's no need to mention me or send anything to my dms," she wrote on via her IG Stories on December 18th. "It has nothing to do with me… and no need to be messy. It's all love over this way Happy holidays to you and your family! It's not easy but I have to do it for my daughter. She is incredibly blessed and is surrounded by so much love – and it's not fake IG photo op love – it's real day in and day out love."
Lanisha's cryptic messages come after Abby De La Rosa, who shares twin boys Zion Mixolydian and Zillion Heir, 1, and Beautiful Zeppelin, 1-month, with the 42-year-old "Wild 'N Out" honcho, posted some fun photos with Nick on Saturday, December 17th.
"Christmas '22 ," Abby captioned a photo of herself with Nick as they held their three children.
Lanisha, who 3-month-old daughter Onyx with the 42-year-old rapper, didn't specify if the comments were aimed at Nick, but one of his other baby mamas thought so, and responded.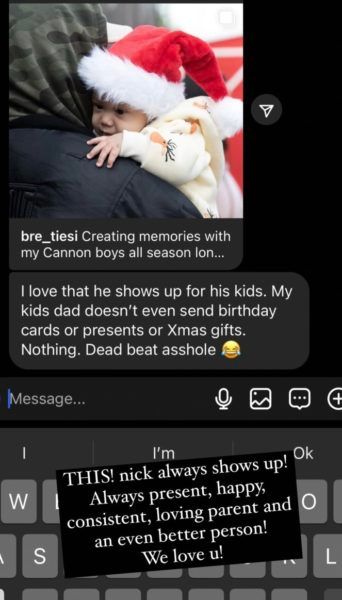 Ex-"Wild 'N Out" girl Bre Tiesi, who shares 5-mont-old son Legendary Love with the Drumline actor, also took some family holiday flicks.
Bre came to her baby daddy's defense on social media after Lanisha's post. She gushed about how great of a dad Nick is to their son when a fan DMed her, praising Nick on how he "shows up for his kids."
The following day, Lanisha took her baby to see Santa at Grand Central Market in Los Angeles, California, to get in the Christmas spirit alongside her friend Brian Paul Kuba. On Instagram, she praised her bestie for being supportive.
"He's been great with us this entire time. So caring and supportive," she captioned a photo via her Instagram Story of the artist holding her daughter Onyx. "He's been there every single day since the beginning. Good days and hard days plus everything in between."
In another IG Story post, Lanisha told her fans that she'll talk about her journey one day, but until then, she asked her fans to send her stories about "overcoming obstacles and leaving toxic relationships."
After sharing some stories from her fans, she then shared a post to check trolls who keep hounding her with "baby mama" jokes.
"And for the people who still feel the need to be nasty towards me and send me disrespectful messages," the 40-year-old former video vixen said. "I get that it's easy to sit on your phone and look at a tiny glimpse of a person's life and feel like you're better than them"
She continued, "Yes I've made mistakes. Yes I've put myself through unnecessary pain and heartbreak (which we've all done in the name of love. You have too!) But I'm choosing to do better. Calling me baby mama #538 every time I say the sky is blue is uncalled for and it's getting old."
Lanisha said there is so much that people don't see, and that there's so much more she wants to say, but now isn't the time.
"I wouldn't change a single thing about my journey because I'm in a beautiful place now and everything has to happen the way it did for me to get here," she said. "I've made peace with every decision I've made in my life and I pray that you make peach with whatever is causing you to be so bitter towards a person you don't know. Get out of toxic comment sections on social media. I'ts not real life," she said.
Swipe through her posts below where she mentioned the day she met Brian was the day her life changed forever below:
Lanisha and Nick welcomed daughter Onyx Ice Cole on September 14, 2022, two months after he welcomed baby #8 with Bre Tiesi.
The video vixen-turned-photographer and Nick shared an on-and-off again romance over the years.
On Valentine's Day 2021, the "Wild 'N Out" host gifted three women - Lanisha, Abby De La Rosa, and Brittany Bell - the same balloons and roses, which they all posted on their social media. Afterwards, Lanisha alluded to breaking up with Nick. You'll recall, Lanisha got "King Cannon" tattooed under her boob in January 2021. Their coupledom news came right after his breakup with model Jessica White.
Today...
Lanisha thanked her "bestie" for holding her down throughout the drama. It's unclear if Lanisha and Brian are actually dating.
Photos: Instagram
​ ​
​ ​ ​