Boxer Gervonta Davis Speaks Out After Domestic Violence Arrest - 'I Never Put My Hands On My Child's Mother Or My Daughter!'
​
Dec 28 | by _YBF
​ ​ ​ ​
Boxing champ Gervonta Davis speaks out after he was arrested on a domestic violence charge for allegedly smacking a woman, believed to be his daughter's mother, in the face. Find out what he has to say about it inside…
UPDATE:
Vanessa Posso admits Gervonta Davis did not put his hands on her or their daughter after calling the police on him with allegations that he was trying to "kill" her. She said she's confident that they will be able to co-parent in a healthy way with the assistance that has been provided for them.
------------------------------
Boxer Gervonta "Tank" Davis hasn't fought much in the ring in 2022, but he has had his fair share of legal issues, unfortunately.
The Baltimore native is due in court in February 2023 for his alleged involvement in a hit-and-run incident in November 2020. He's also currently facing a civil suit.
Now, he's fighting a domestic violence charge...again.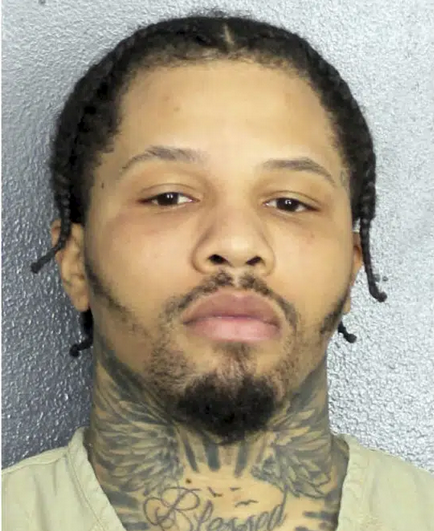 The 28-year-old boxer was arrested and jailed in Broward County, Florida, on Tuesday (Dec. 27th) on a domestic violence charge of battery causing bodily harm after he was accused of hitting a woman with a "closed hand type slap" in the face.
The incident report states that the woman, whose name was withheld and who does not reside with Davis, sustained a minor cut to the inside of her upper lip on the right side of her mouth.
According to Broward County Sheriff's Office records, the 135-pound boxer was taken into custody in Parkland, Florida, at 2:50 p.m. EST on a misdemeanor domestic violence charge of battery causing bodily harm. He was released from Broward County Jail on Wednesday (Dec. 28th) after bail was set at $1,000 during a court proceeding.
TMZ Sports released the alleged frantic 9-1-1 call from the woman who accused Gervonta of physically assaulting her.
The site reports:
As the operator attempted to gain more information about what was happening ... the woman could hardly compose herself, screaming for help numerous times.

"I need help, please!" she said in the call. "I'm trying to go home. I have my baby in the car, and he attacked me in front of the kid. And, now he's messing up my tires!"

A few moments later, she can be heard saying, "Please, help me! He's going to kill me!" The call disconnected, but she was able to call back again -- telling the operator on the second go-around, "I need to go home, I'm in danger right now!" In a separate 911 call, a woman can also be heard requesting assistance for the alleged victim ... noting in her call that the woman claimed Davis had spit at her.
You can listen to the call here.
As news of his arrest circulated, Gervonta hopped on social media to clear his name after the arrest. He claims he did not put his hands on his child's mother or his child.

"DO NOT LET THESE PEOPLE MISGUIDE YOU ALL ON THIS BULLSH*tT," he wrote. "THIS WAS JUST YESTERDAY MOMENTS BEFORE ME AND MY CHILD MOTHER HAD ARGUMENT! WATCHING FROZEN WITH MY OLDEST DAUGHTER ..I NEVER PUT MY HANDS ON MY CHILD MOTHER NOR MY F*CKING DAUGHTER ARE YOU F*CKING CRAZY!! IM NOT A MONSTE."
Gervonta said he doesn't have a "team" behind him, which is why he took to social media to clear his name. He said he feels the media is reporting false narratives about him for money and that they are trying to destroy him.
"THESE PEOPLE DONE PUT OUT SO MUCH STUFF AIRED THIS EVERYWHERE AND HAVE A F*CKING HELICOPTER FLYING OVER MY HOUSE NOW AS I WRITE THIS BECUZ THEY LOOK AT THIS SH*T AS MONEY TO THEM AND TRYING TO GET AS MUCH MONEY AS POSSIBLE," he wrote. "THEY RUSH TO MY CHILD MOTHER OFFERING HER 50k JUST TO PRESSURE [sic] CHARGES..LIKE THEY DID WITH MY FIRST CHILD MOTHER, SO BAD THEY COULDNT GET HER SO THEY GOT A LADY THEY CALMED SHE WAS INTO THE MESS ALSO A LADY THAT KNOWN FOR SUITING PEOPLE FOR MONEY REASON."

He continued, "THEY GOT HER! WHICH I HAVE TO PAY 300k TO AND I DIDNT LAY A FINGER ON HER OR EVEN KNOW WHAT THIS LADY LOOKS LIKE! THEY DOING THIS FOR MONEY TO AND ALSO TO DESTROY ME!! I AM NOT A MONSTER, I HAVE TWO BEAUTIFUL DAUGHTERS THAT HAVE TO GROW UP SOMEDAY AND SEE THIS BULLSH*T!! THEY POST THIS BULLSH*T WORLD WIDE BEFORE ANYTHING! THEY EVEN POST A SNIPPET OF THE POLICE CALL WHICH MY CHILD MOTHER WAS CRYING ON THE PHONE BECUZ I WOULDNT GIVE HER MY TRUCK!"
He quickly removed the post, but not before it had been screenshot. You can read his full message below: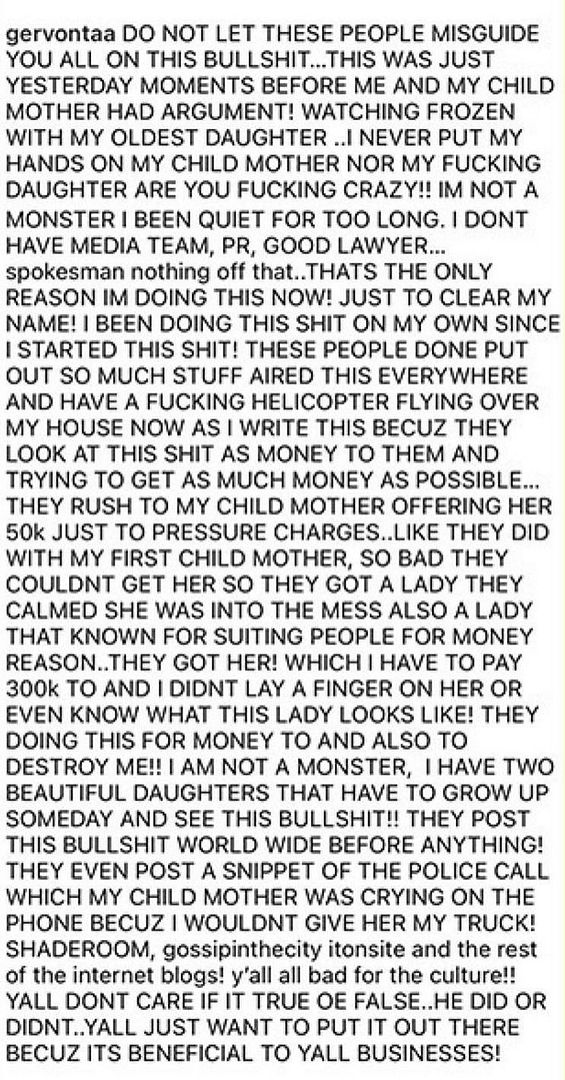 Right after his post and delete, his daughter's mother, Vanessa Posso, posted a cryptic message:
"Karma never loses an address," she wrote.
The boxer took to IG Stories again to "clear his name." He shared pictures and videos of the aftermath of their argument. He claims Vanessa put his daughter's poop on his toothbrush.
"This girl put sh*t on my toothbrush…and everything this hard sh*t from my daughter pamper…the one y'all saw I hit!," he wrote. "Can't say I did this I was f***king locked up…I didn't want to do this but I wanna clear my name!"
He also shared a photo of what looks like spit on his face before deleting everything. Check it out below:
A mess!
Now, Gervonta's fight against Hector Luis Garcia in Washington, D.C., on January 7th, is in jeopardy. It's unclear if the fight will go down as planned following his arrest.
In addition to his domestic violence drama, Gervonta is due in court on February 16th to answer to more than a dozen charges related to an alleged hit-and-run in 2020 that involved four people, including a pregnant woman, Jyair Smith.
The former world champion, who has a 27-0 record with 25 knockouts, is accused of fleeing the scene of the collision and failing to return and remain at the scene of the accident. The accident happened after the Lamborghini he was driving ran a red light and collided with another vehicle, which caused bodily injury. He's facing 14 charges, including failure to immediately return and remain at the scene of an accident involving bodily injury.
Just two weeks ago, he had misdemeanor charges against him in Coral Gables dropped after he was accused of hitting an ex-girlfriend in 2020, according to Miami-Dade court records.
Photos: AP Photo/Brynn Anderson, File/Broward County Sheriff's Office
​ ​
​ ​ ​