Quality Control - Home To City Girls, Lil Baby & Migos - Reportedly Sells For $300M+ To Scooter Braun's K-Pop Based Company, QC Honcho Pierre Thomas Responds To Critics
​
Feb 09 | by _YBF
​ ​ ​ ​
Quality Control has been sold to Scooter Braun's K-Pop based company, HYBE America, for a reported $300+ million. QC co-founders Pierre "Pee" Thomas and Kevin "Coach K" Lee have received harsh criticism for the deal, and now, Pee is responding. More inside…
Quality Control co-founders Pierre "P" Thomas and Kevin "Coach K" Lee have struck a new deal with another music company.
According to Variety, the two executives have sold their Atlanta-based entertainment company to HYBE America. The business transaction, reportedly valued at $320 million in stock and cash, was led by HYBE CEO Scooter Braun, who took over as sole CEO earlier this year.
The HYBE America Acquisition of Quality Control
Quality Control has been responsible for bringing some of the biggest names in rap music to the forefront, including the City Girls, Lil Baby, the Migos and Lil Yachty. The label has become a staple in the hip-hop and rap music scenes, producing hit after hit. It also covers sports, film, and television.
Hybe America is paying $250 million for QC and issuing $50 million in new stock to QC's founders, Pee and Coach K. The deal is reportedly in line with HYBE's mission to build a global entertainment conglomerate based on music but with interests in other mediums and platforms related to entertainment, lifestyle, and culture.
Scooter Braun, who also represents Ariana Grande and Demi Lovato, has been the sole CEO of Hybe America since January of this year, and the Quality Control acquisition is his first transaction in the role.
Hybe America is the U.S. division of the South Korean entertainment conglomerate Hybe Entertainment, which manages BTS and is a major player in the K-Pop industry. Hmm...
According to the publication, QC's music roster will remain affiliated with Universal Music Group.
"HYBE are perfect partners for Quality Control as we come together to take our story and work global. All of HYBE's leaders are entrepreneurs with phenomenal, combined history finding talent and taking it to the highest levels. Taking QC worldwide requires key partners like this who understand building something from the bottom and aiming sky high. It matters to us greatly their grasp of culture and acutely seeing what QC has built and the limitless path of where it can go. QC and HYBE both have an existing relationship with the Universal Music Group family of companies makes this seamless. We have so much gratitude to the whole QC family of artists and without them this wouldn't be possible. This partnership will create a global platform for our artists which has been our goal since day one for them," said Pierre Thomas, Co-Founder, CEO of QC.
"P and I are ecstatic about this partnership with Scooter and HYBE and are confident they can get us to our global ambitions we've had in our scope since the beginning of our company as nothing means more than our artists impacting world-wide. Over many years Scooter and I have cultivated real trust and a common way of looking at the world and culture. An added bonus of this partnership is the fact that both QC and HYBE have existing relationships with the UMG family and that will create an easy flow that will benefit the artists. The artists of QC are our focus and their best interests will be incredibly supported with this partnership," said Kevin Lee, Co-Founder, COO of QC.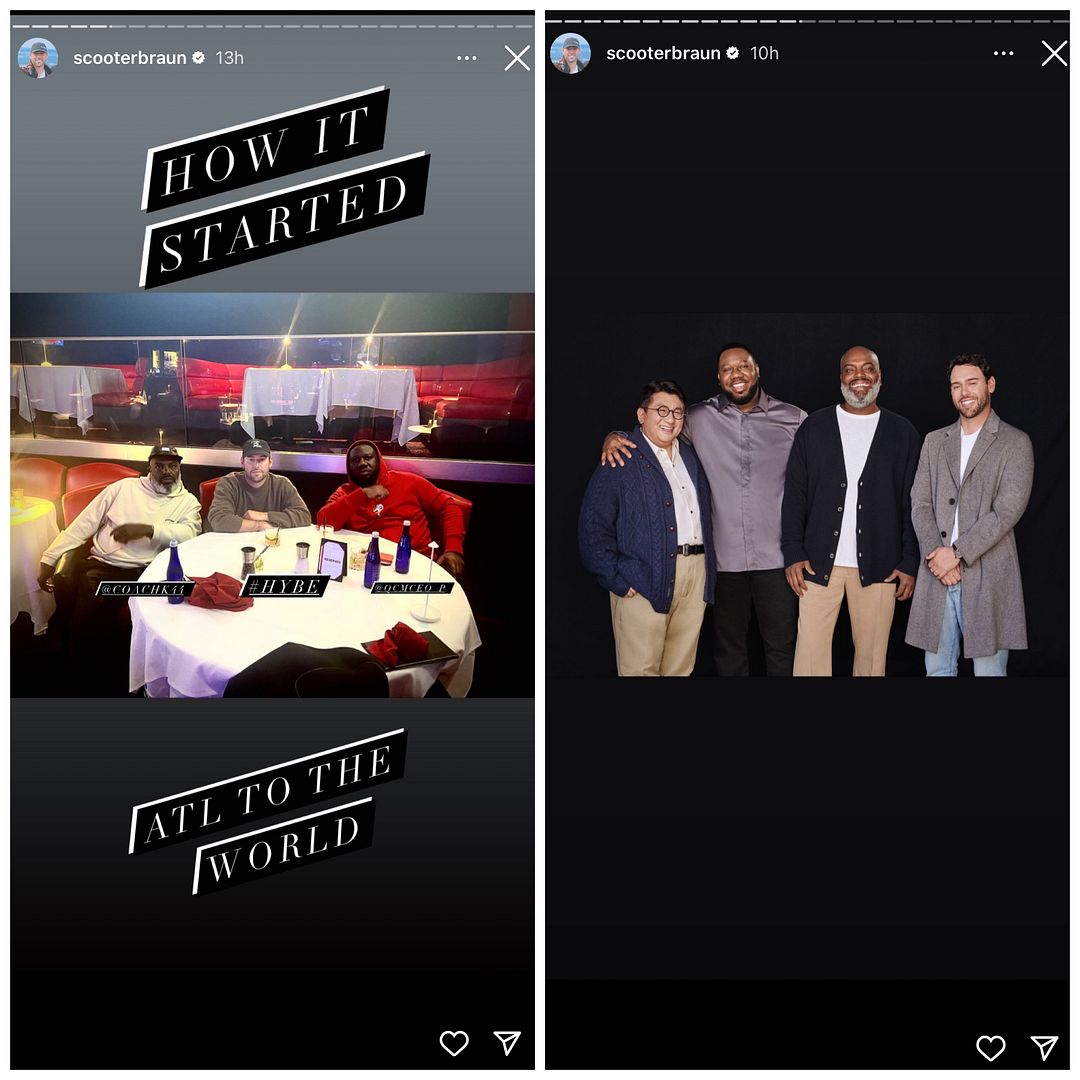 Apparently Coach K and Scooter have history:
"I am so proud and honored to have Coach and P join Bang and myself as our partners," said HYBE America CEO Scooter Braun. "QC is one of the most significant independent labels in the world, working with incredible artists who are, and remain to be, the voices of culture. I'll never forget riding around Atlanta over 20 years ago with Coach discussing our dreams and ambitions and how we said: 'If they let us in the game, we are never going to give it back'. Now, all these years later, we are joining forces to make these dreams a reality. It's important to my team and me that P and Coach continue to have the freedom, and now our global resources, to continue to do what they do best; facilitate and nurture great art and culture."
Interesting.
Reactions to the Deal
While many people praised the pair for the deal, others criticized the sale of QC, saying the businessmen had "sold out" a successful Black company in order to make a lot of money.
P from QC talking about some "this ain't selling out, y'all don't want black entrepreneurs to win"

NIGGA YOU ARE A SELL OUT. During BHM too

— Blvck Usagi. (@SheGoLegend) February 9, 2023
WHY TF DID QC SELL OUT??? Black folks refuse to keep shit for ourselves, I swear.

And to Scooter Braun?? Are you serious?

I see why Offset wanted out.

— Tut, The Habitual Linestepper. (@KingTutUncut) February 9, 2023
QC is labeled as one of the most influential labels.. why Black ppl never keep sht to pass down and create a legacy like the Jewish mfs? Why they always sell out? That label couldve been worth sooo much more down the line.

— AP (@alaynaa__) February 9, 2023
Now a yt man owns Quavo masters. Not even Pee was loyal LMFAO

— . (@Defensess09) February 9, 2023
I been saying Offset on some Eazy E shit w/ the label && the rest of Migos were happy with their deals and being played..

Sure enough that man sold his whole label for $300 millions.

And thats the beef! Quavo comfortable w/ how P do business and Offset know they getting played!

— Pack Leader of #TeamNoHomeTraining (@returnofdaMaq) February 9, 2023
Amid the news of the deal, Pee has denied "selling out" and explained he's "selling in."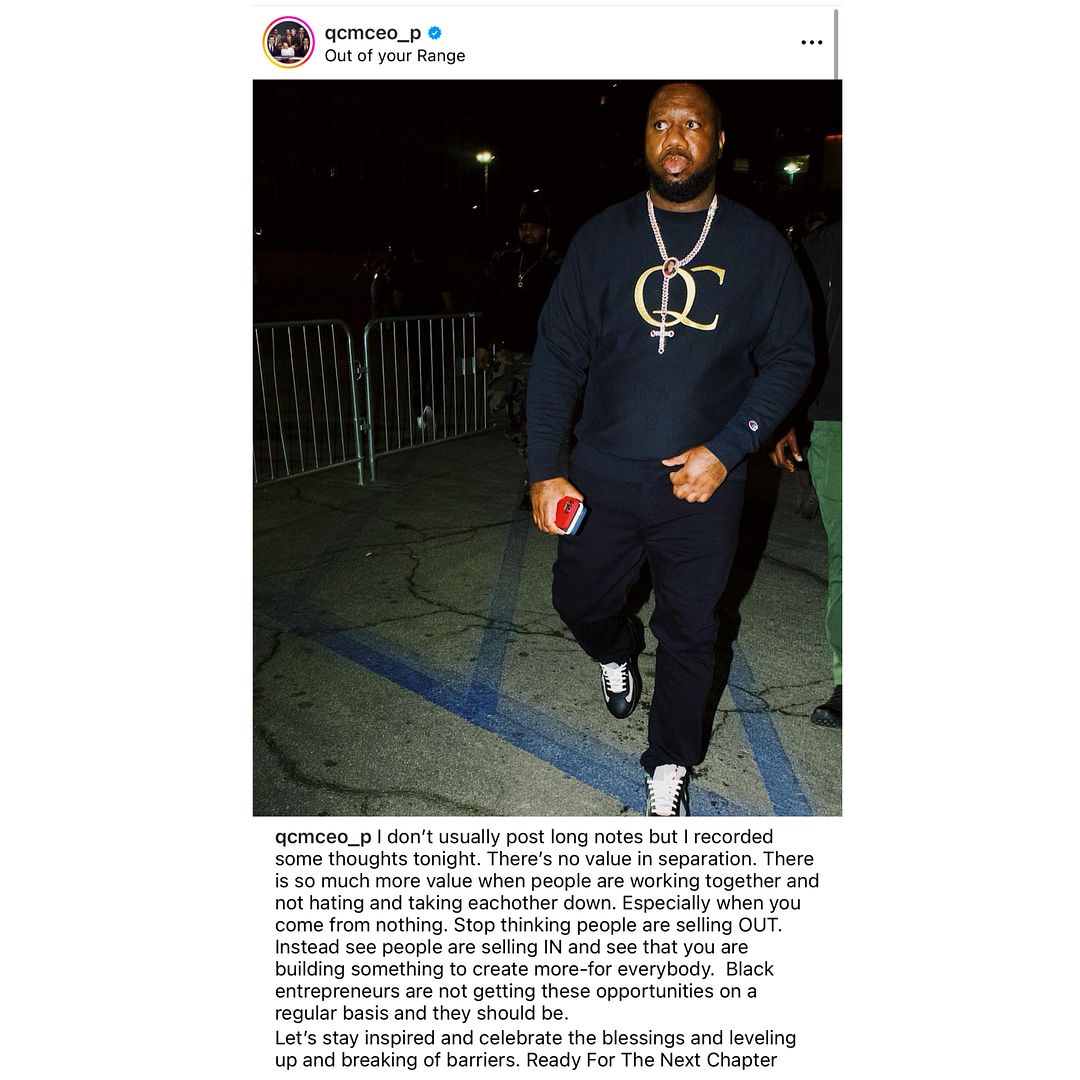 "I don't usually post long notes but I recorded some thoughts tonight," Pee wrote on his IG. "There's no value in separation. There is so much more value when people are working together and not hating and taking eachother down. Especially when you come from nothing."
He continued, "Stop thinking people are selling OUT. Instead see people are selling IN and see that you are building something to create more-for everybody. Black entrepreneurs are not getting these opportunities on a regular basis and they should be. 

"Let's stay inspired and celebrate the blessings and leveling up and breaking of barriers. Ready For The Next Chapter"
Pee and Coach K are definitely ready for the next chapter.
Quality Control and HYBE, led by Braun, Lee, Thomas, and HYBE chairman Bang Si-Hyuk, are all minorities with multiple female executives in top roles, according to Variety.
Do you think this is a good move? How do you think the artists feel about it? Sound off in the comments.
EXTRAS:
1. Kevin Durant traded to Phoenix Suns in blockbuster move. STORY
2. Kyrie Irving "shines" during debut with the Dallas Mavericks. STORY
3. The Los Angeles Lakers are trading Russell Westbrook to Utah and reacquiring guard D'Angelo Russell from Minnesota in a three-team, eight-player deal. STORY
Photo: Instagram
​ ​
​ ​ ​