NFL HONORS 2023: Damar Hamlin's Touching Speech, Sheryl Lee Ralph, Taylor Rooks & More Sizzle On The Red Carpet, Patrick Mahomes Beats Jalen Hurts For MVP
​
Feb 10 | by _YBF
​ ​ ​ ​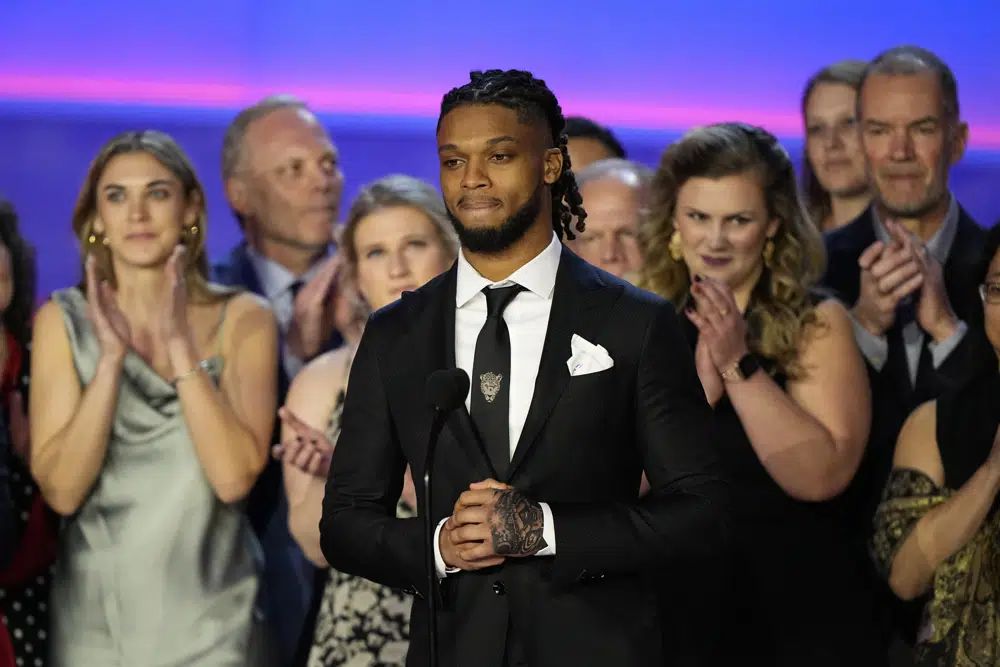 This year's NFL Honors featured a special tribute from Bills' player Damar Hamlin to the medical personnel who saved his life when he suffered cardiac arrest. The red carpet sizzled with appearances by Sheryl Lee Ralph, Taylor Rooks, and more. Also, Chiefs QB Patrick Mahomes beat out Eagles QB Jalen Hurts for this year's MVP Award. Everything inside…
The 12th annual NFL Honors took place inside Phoenix's Symphony Hall on Thursday night to honor the league's top players days before the Philadelphia Eagles face the Kansas City Chiefs in Super Bowl LVII.
The annual NFL Honors ceremony typically shines the spotlight on the top football players of the year, but this year's event saw a different group of heroes take center stage. The Bengals and Bills trainers, as well as University of Cincinnati medical personnel who saved Damar Hamlin's life after he suffered cardiac arrest during a game in January, were honored for their life-saving efforts.
The first responders received a standing ovation for their efforts in saving Damar's life onstage at the NFL Honors.
All the heroes who helped save @HamlinIsland's life @UC_Health

: #NFLHonors on NBC pic.twitter.com/CWMMISoc1F

— NFL (@NFL) February 10, 2023
"Abbott Elementary" star Sheryl Lee Ralph, who is set to perform during the Super Bowl, introduced them on stage, followed by 24-year-old Hamlin, who received a standing ovation from the NFL players and celebrities in the audience. He then expressed tremendous gratitude to all of the first responders.
"First I would like to just thank God for even being here," he began. "Sudden cardiac arrest was nothing I would've ever chosen to be a part of my story. But that's because sometimes, our own visions are too small. My vision was about playing in the NFL and being the best player I could be. But God's plan was to have a purpose greater than any game in this world."
He continued, "I have a long journey ahead, a journey full of unknowns and a journey full of milestones. But it's a lot easier to face your fears when you have a purpose."
#NFLHonors | #LoveForDamar pic.twitter.com/33uu20BHTv

— Buffalo Bills (@BuffaloBills) February 10, 2023
The Bills baller then thanked the first responders who had surrounded him on stage before pulling them all into a group hug.
"I want to give a special thank you to everyone on this stage for everything they did for me," Damar said. "And thank you to everyone around the world who prayed for me and hoped for me. The journey will continue."
Last month, Damar was injured while making a tackle early in the first quarter of the Buffalo Bills' Monday Night Football game against the Cincinnati Bengals on January 2nd. After the tackle, he stood up, and then immediately fell to the ground. Before the ambulance arrived, medical personnel gave Damar CPR and appeared to give him oxygen. He was listed in critical condition before a miraculous turnaround. On January 11th, he was discharged from the Buffalo General Medical Center to continue his recovery at home.
Watch his touching speech below:
"The journey will continue."

An incredible moment as @HamlinIsland takes the stage at #NFLHonors. pic.twitter.com/TgqTKSAVKS

— NFL (@NFL) February 10, 2023
Speaking of awards…
#MVPat once again.

Congratulations, @PatrickMahomes pic.twitter.com/gm32V0cbqm

— Kansas City Chiefs (@Chiefs) February 10, 2023
Patrick Mahomes' record-breaking season has earned him yet another prestigious honor: the 2022 NFL Most Valuable Player.
During the NFL Honors, the Kansas City Chiefs quarterback was named the 2022 NFL MVP.
The Chiefs QB won by a landslide, receiving 48 of 50 first-place votes and 490 total points. Eagles QB Jalen Hurts and Bills QB Josh Allen received the other two first-place votes, with Jalen finishing second with 193 points.
Patrick was not present to accept the award because he and the Chiefs are preparing for Super Bowl LVII against the Philadelphia Eagles on Sunday, but the quarterback did have a message for his team.
Watch his speech below:
Another MVP for Patrick Mahomes!@PatrickMahomes | @Invisalign

: #NFLHonors on NBC pic.twitter.com/WnnCROpecV

— NFL (@NFL) February 10, 2023
Despite the fact that the Eagles led the league in Pro Bowl players and set numerous franchise and league records this season, not a single player or coach was honored. Wow! Talk about being snubbed.
Jalen Hurts also lost when Vikings WR Justin Jefferson was named Offensive Player of the Year.
Here's a recap of all the major award winners, plus some takeaways from the night:
MVP: Chiefs QB Patrick Mahomes

Offensive Player of the Year: Vikings WR Justin Jefferson

Defensive Player of the Year: 49ers DE Nick Bosa

Coach of the Year: Giants' Brian Daboll

Offensive Rookie of the Year: Jets WR Garrett Wilson

Defensive Rookie of the Year: Jets CB Sauce Gardner

Comeback Player of the Year: Seahawks QB Geno Smith
Cowboys QB Dak Prescott won the Walter Payton Man of the Year Awad. Watch his encouraging speech below:
"We're all blessed with the obligation to make an impact on our communities and to love our neighbors."

An inspiring #WPMOY speech from @dak. (by @nationwide) #NFLHonors pic.twitter.com/yuecVK84FP

— NFL (@NFL) February 10, 2023
Although Jalen didn't win any awards during the NFL Honors, he did get a chance to meet legendary singer Patti LaBelle, who is a Philadelphia native. Watch their cute exchange below:
On the red carpet at the NFL Honors…
The NFL Honors red carpet was a fashion fest, with players, celebs, and guests flexing their fashions .
Celebs like EMMY winning actress Sheryl Lee Ralph, sports journalist and broadcaster Taylor Rooks, Deion "Coach Prime" Sanders, new football head coach at Colorado, and his longtime partner Tracey Edmonds, and EMMY winning TV host Zuri Hall were on the scene.

Get into their ensembles below:
Zuri looks AH-MAZING. By the way, there are rumors that the "Access Hollywood" correspondent could possibly be dating Kansas City Chiefs tight end Travis Kelce. According to Hollywood Life, a video of Zuri with Travis in the background was posted by a friend of the NFL player, sparking possible dating rumors in fall 2022.
In a January 2023 interview with the podcast "The Pivot," Travis, who previously dated Kayla Nicole, said he was "single" though, so who knows.
Also in the mix…
2023 NFL Honors Red Carpet Roundup with Cara Delevingne, H.E.R., Sheryl Lee Ralph, and Tiffany Haddishhttps://t.co/mSpGtKhXNy pic.twitter.com/buOYQTP8Q6

— Red Carpet Fashion Awards (@Fashion_Critic_) February 10, 2023
Grammy & Oscar winning singer H.E.R., as well as Tiffany Grammy & EMMY winning actress Tiffany Haddish hit the carpet for the football festivities.
At the #NFLHonors, Tiffany Haddish shares her favorite role ever. pic.twitter.com/AyrxnRHxvo

— AP Entertainment (@APEntertainment) February 10, 2023
Fab times. Congrats to the winners.
As we gear up for Super Bowl LVII, take a listen to our playlist to get you "HYPE" to root for your team below:
EXTRAS:
1. Wynn is selling an insane Eagles/Chiefs Super Bowl package that includes a ride of a private jet, meet and greets with Shaquille O'Neal and Rob Gronkowski, and unlimited booze for $1 million. STORY
Photos: AP Photo/David J. Phillip/AP Photo/Ross D. Franklin
​ ​
​ ​ ​