Nicki Minaj Releases 'Red Ruby Da Sleeze,' Fans Speculate Megan Thee Stallion, Latto & Cardi B Are Targets Of Her Fiery Lyrics
​
Mar 03 | by _YBF
​ ​ ​ ​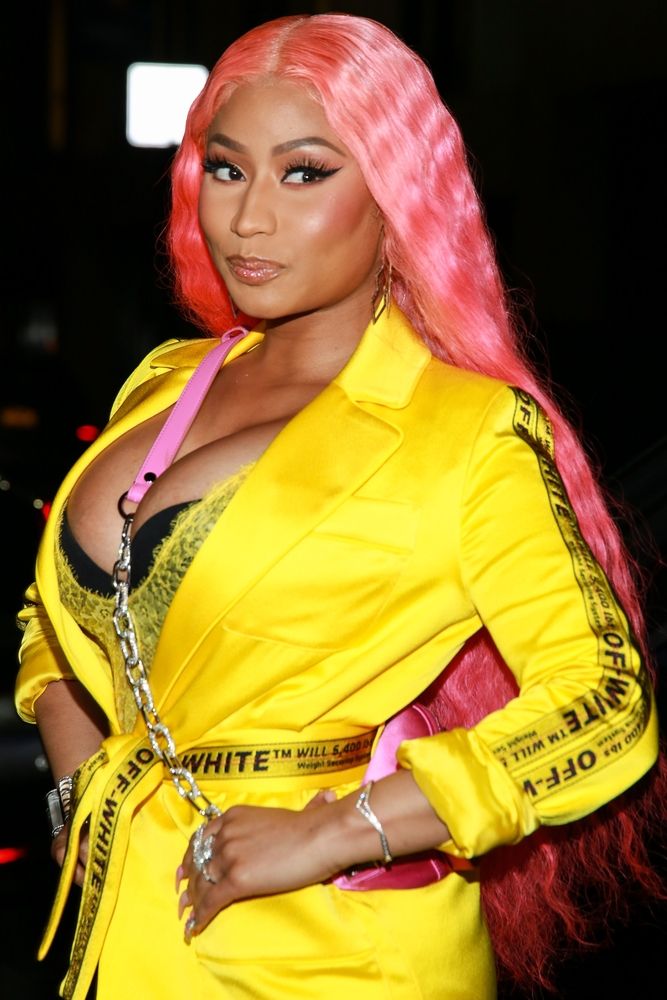 Nicki Minaj is back! And fans believe she's firing shots at several female rappers, including Megan Thee Stallion, Latto & Cardi B, on her new track titled "Red Ruby Da Sleeze." Peep the lyrics and tell us if she's throwing shade inside…
The self-proclaimed Queen of Rap is back with new music!
"Red Ruby Da Sleeze" is Nicki Minaj's first solo single since "Super Freaky Girl" in 2022, which was her first solo No. 1 single. Her first single of 2023 samples Lumidee's 2003 classic hit "Never Leave You (Uh Oooh, Uh Oooh)."
Nicki's new single is causing a stir on social media. Within hours of the song's release, social media was abuzz with speculation that Nicki had thrown shade at Megan Thee Stallion, Latto, and Cardi B in her lyrics.
Nicki mentioned a roach, Karen, horse and botched face... Let's fck GOOO pic.twitter.com/C3KyX2UMDn

— CHUNLEON (@AyoChunleon) March 3, 2023
The speculation centers around a line in the song where Nicki raps, "I don't f–k with horses since Christopher Reeves."
Fans were quick to point out that she was shading Megan Thee Stallion, referencing a horse. As you know, a "stallion" is a male horse. Fans also noted that actor Christopher Reeve's horse accident, which left him paralyzed, happened in 1995, which is the same year the "WAP" raptress was born.
Towards the end of the track, Nicki appears to reference Megan again, with the line, "That .40 cal make 'em dance like a go-go."
Many fans are speculating whether this lyric is a direct reference to the incident where Megan was shot in the foot by Tory Lanez in July 2020. Police reportedly found a .40 caliber Glock 22 on the scene where the shooting occurred. During the trial, you may recall Megan testified that Tory told her to "dance, b*tch" before shooting her in the feet.
In December 2022, Tory Lanez was found guilty of three felonies in relation to the shooting, including assault with a semiautomatic firearm, discharging a firearm with gross negligence, and carrying a loaded, unregistered firearm in a vehicle. His sentencing trial is set to take place on April 10, 2023.
Not Nicki Minaj using Megan Thee Stallion's recent trauma as barz. This just proves she's the one with the issue and wants smoke with Meg. When Meg clocks her tea, I don't want to hear it! pic.twitter.com/6C8428ognI

— FRG (@femalerapgamee) March 3, 2023
In the second verse, it seems Nicki came at Megan again with a Doritios reference. If you didn't know, Meg has a partnership with Flamin' Hot Cheetos and Flamin' Hot Doritos.
"Dorito bitches mad that they nachos (not chose)/Shout out my vatos/Shoutout da hoes that's watching me like Movados," she raps on the track.
Nicki and Meg fell out after Meg collaborated with Cardi B on "WAP" in 2020.
Speaking of Cardi…
nicki said "all them botched face photos, why would u post those?" CARDI GET OFF THE FLOOR OMG #RedRubyDaSleaze pic.twitter.com/Ue3OPcnQRt

— KⱯYLA (@printual) March 3, 2023
In the very next line, Nicki raps, "All them botched face photos, why would you post those?"
Fans believe Nicki is targeting Cardi B because of her cosmetic surgeries.
During the bridge of the song, the QUEEN raptress appears to direct her attention towards rapper Latto, with whom she had a Twitter feud in October 2022, referring to her as "an entitled Karen." Nicki, known for her fashion sense, manages to balance this attack by including a reference to the creator of the DKNY label.
Latto swung with the "it's giving coke" bar then megan swung with the perc bar and bitches were gagging…..So when nicki hit below the belt now all of a sudden everyone feels pity for the bitch??? pic.twitter.com/1f6p65CCx2

— shad. | #IZZYDAY (@SSshadali) March 3, 2023
"He told me bring him that na-na-na, na-na-na-na/We don't be Karen like Donna-na, na-na-na-na," she raps.
Peep more reactions below:
Nicki took shots at Cardi with the "botched" line and then Megan with the "horse" line and then Latto with the "Karen" line lmaaoooo. I love mess #RedRubyDaSleaze pic.twitter.com/IWJiNW29qY

— R (@NEEDlTINME2) March 3, 2023
Get of the floor latto pic.twitter.com/elsfAajTKm

— NICKI MINAJ CHART DATA (@musictaIks) March 3, 2023
"How can I choose if I'm already chose like?" That's ice spice bar but Nicki flipped it with the Doritos bar
********************
Her pen is crazy
Latto -you didn't get it from the first time i know pic.twitter.com/TAJxdJznv8

— Dark mood (@darkiimood) March 3, 2023
Nicki Minaj making fun of Megan Thee Stallion in new song for getting shot is just disgusting pic.twitter.com/tGuSgCIMHK

— TORRES (@freakbardi) March 3, 2023
Yall was laughing loud when Megan was saying "Otis" when Latto said "it's still giving coke" & when cardi said "Arms" now it's bullying when Nicki come out and really RAP while giving bitches what they asked for fck yall

— Barbie'sRevenge (@NiiyahMinaj_) March 3, 2023
so is megan innocent and being bullied? or is she dissing nicki and getting dissed back? yall don't know which side yall want her to be on https://t.co/cQXKY5T6UI

— ᴊᴀʏᴏ (@ichosevioIence) February 24, 2023
When Megan gets in the studio and starts talking Nicki's mother, her child, her father getting ran over, AND Kenneth petty being a rapist I'm gonna laugh and I don't wanna see any barb getting offended pic.twitter.com/TSXlLxq8Fi

— beygodess | fan account (@orginalsy) March 3, 2023
Take a listen to Nicki's new track "Red Ruby Da Sleeze" below:
And here's the lyric video:
Are you feeling it?
Photos: everett225/Depositphotos
​ ​
​ ​ ​