Creed III's Record-Breaking Knockout $100M Box Office Debut + Cardi B Denies Rumors That She & Megan Thee Stallion Want To Remake 'B.A.P.S.'
​
Mar 08 | by _YBF
​ ​ ​ ​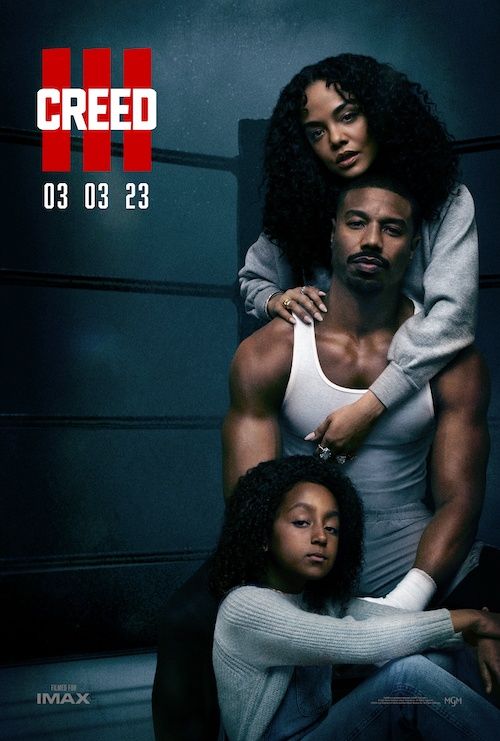 Creed III, the latest installment in the Rocky franchise, has made a record-breaking debut at the global box office, grossing an impressive $100 million in its opening weekend. Deets on its record-breaking box office debut, plus details on reports that Megan Thee Stallion and Cardi B are showing interest in a B.A.P.S. inside…
CREED III was a total knockout for its debut at the box office!
The film franchise is gaining momentum with each installment, and the latest release has shattered records with a confirmed $43.1 million from 75 international markets, adding to the North American opening of $58.5 million to achieve a global total of $101.6 million! It is the first time in history that a sports film has grossed more than $100 million in its opening weekend.
Michael B. Jordan, who received his star on the Hollywood Walk of Fame two days before the release of CREED III, has proven himself to be a multi-talented force in Hollywood with the release of his latest film. Not only does he star in the film, but he also makes his directorial debut, taking the franchise to new heights with his vision. And audiences are clearly here for it.
Compared to the previous two CREED movies, the third installment is reportedly performing exceptionally well, tracking 109% ahead of CREED and 25% above CREED II in like-for-like international markets using current exchange rates. Even after adjusting for the exchange rates at the time of release, CREED III still outperforms the previous films, with a 93% increase over CREED and an 18% rise over CREED II.
Unlike its predecessors, CREED III offers a new storyline with no Rocky in sight, as Adonis Creed confronts his past when a former friend, played by Jonathan Majors, becomes his opponent. The screenplay is by Keenan Coogler and Zach Baylin, based on a story by the same writers, along with Ryan Coogler, who is also a producer (and brother of Keenan).
The success of CREED III suggests that the franchise is still going strong, and it looks set to exceed the lifetime grosses of the previous CREED films. With a Japan release date set for May 26th, the film's box office performance is sure to continue growing, solidifying its position as one of the most successful sports movie franchises in recent years.
Major congrats!
Speaking of movies…
Word on the curb is that Megan Thee Stallion and Cardi B have shown interest in starring in a remake or sequel of the 1997 buddy comedy, B.A.P.S.
The film, directed by Robert Townsend, followed the journey of two Black American princesses, played by Halle Berry and Natalie Desselle-Reid.
Despite receiving mixed reviews from critics, the movie's satirical take on Black culture, including exaggerated hairstyles and custom gold teeth, has earned it a cult following.
In a recent interview with /Film, Robert Townsend revealed that the two rappers have expressed their desire to star in an updated version of the film. The artists' affinity for the film's aesthetic was evident in their NSFW music video for "WAP," which featured nods to the B.A.P.S. style.
"The thing that I would say is this: I'm a filmmaker. It's a well-made movie. And if you go on the ride and go, 'Oh, it's two country girls trying to make some money and then they find who they are, and at the end of the day, they do win. But it's because they're being honest and transparent.' Do gold diggers or women that have ulterior motives exist? Yeah. These two country girls from Decatur, Georgia got caught up in the scheme, but at the end of the day, we reveal their heart, and it's a love story. There's people that love, love, love the film and some people that didn't get it. And those that love it — like you love it and you get it — I've had people go, 'Hey, we want to do a remake." Everybody from Megan Thee Stallion to Cardi B is like, 'Could we do…' I mean, it's like, I don't know. So, thank you for asking."
The famed director expressed his love for the film and the mixed reactions it has received over the years.
"Let me say this: I would love 'B.A.P.S.' in there. It's kind of interesting because some people love 'B.A.P.S.' and then some people don't like 'B.A.P.S.', and some people are mad because they go, 'You gave Halle Berry gold teeth and blonde hair.' And I was like, 'Yeah, I did!'"
Regrettably, the project, if it does happen, will not include Natalie Desselle-Reid, who lost her life to colon cancer in 2020.
Halle paid a heartfelt tribute to Natalie on Instagram, posting a picture of one of their scenes together. She expressed, "As I honor my sweet BAP Natalie today, I'm flooded with recollections of her affection, humor, and contagious grin. I trust she's spending her first birthday in heaven laughing, living her life to the fullest, and being the optimistic light she always was. I miss you, Nat Dog." R.I.P. Natalie!
UPDATE:
Cardi B appears to have denied rumors that she and Megan Thee Stallion are interested in remaking B.A.P.S.
Photo: Eli Ade/MGM/YouTube Screenshot
​ ​
​ ​ ​