Yung Miami Fires Back After Fans Roast Her 'BMF' Cameo, 'Caresha, It's Giving Tubi'
​
Mar 10 | by _YBF
​ ​ ​ ​
Social media is trolling Yung Miami after her cameo in "BMF's" newest episode, letting her know she needs to brush up on her acting skills. Well, she heard what everyone was saying and she responded. Find out what she said inside….
Yung Miami is making her way into acting, taking on new roles, following her appearance in the Netflix movie, You People.
The City Girls rapper (real name Caresha Brownlee) made a cameo appearance on the latest episode of the TV show "BMF," which is produced by rapper 50 Cent. In the show, Yung Miami played the role of Deanna Washington, who was informed by Big Meech's character about the death of her husband. Watch a clip of her performance below:
I hope Yung Miami stick to making music bruh this really the worst acting I ever seen in my life #BMF pic.twitter.com/WOFf81n420

— Nasir (@Nasir22xx) March 10, 2023
After the episode aired, some viewers took to Twitter to criticize Yung Miami's acting, with many finding her fake crying during a gut-wrenching moment to be hilarious. Caresha saw one of the tweets and replied with a side-eye emoji, stating that her cameo wasn't meant to be funny.
It wasn't funny lol https://t.co/5YBCmqwvoe

— Yung Miami (@YungMiami305) March 10, 2023
"Caresha had me screaming on BMF last night she's mad funny," a viewer tweeted.
"It wasn't funny lol," Caresha responded.
Despite her response, the trolling continued, with some Twitter users suggesting that Yung Miami should stick to rapping and get acting lessons. One user even directly quoted Caresha's character from the show, writing "Meech where's my husband" along with laughing emojis and the phrase "Caresha please." Many users compared her performance to a Tubi show. Yikes.
Peep reactions below:
Caresha it's giving tubi #bmf pic.twitter.com/EmUGK07L7G

— Supreme's Tea. (@iamsupremetingz) March 10, 2023
50 needs to stop giving parts to all his friends and family. Especially, when they can't act. All I see is "Caresha Please". #BMF

— tee (@teegirly) March 10, 2023
I don't even watch #BMF but I saw of clip of caresha on there and baby… let's just say it's giving TUBI. can we stop giving these celebrities who aren't trained actors , acting roles.

— talaysia (@thtgurlaylay) March 10, 2023
While some fans were trolling her performance, others gave her props:
"Someone give Caresha a fuckin' EMMY. Did you see the raw emotion in that slap? The pain when she covered her face? The test streaked face? That's ACTING," a person tweeted.
"EXACTLYYYYYY!!!!!!!," Caresha responded.
Check out more of her reactions below: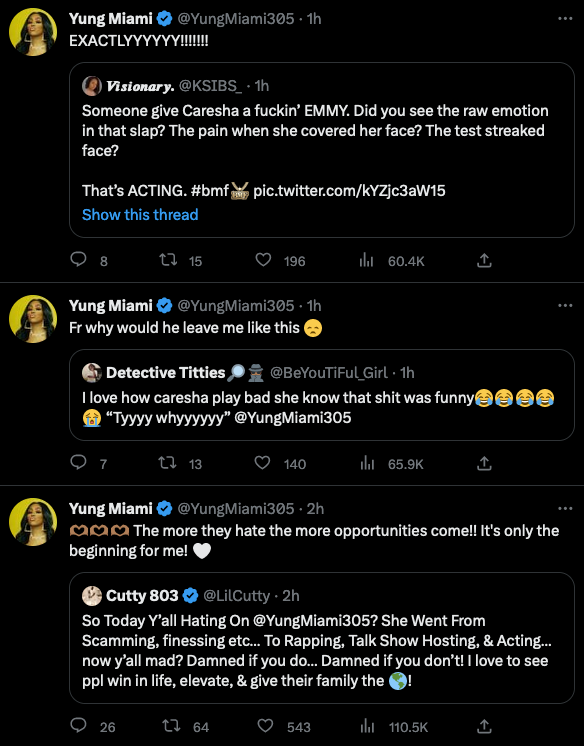 In another tweet, she wrote, "If I'm crying why y'all laughing??? Y'all play to much"

Despite the mixed reviews, Caresha was not the only rapper to appear on "BMF." The show was renewed for a third season in January 2023, shortly after the season 2 premiere, which brought in 4.1 million multi-platform viewers. "BMF captures the essence of Detroit through elevated, gritty storytelling, and our fans have passionately responded to this show more than ever before," said STARZ president of programming Kathryn Busby in a statement.
50 Cent celebrated the show's success and renewal recently, where he hyped up three "BMF" spin-offs coming down the pipeline. According to Deadline, the show will have multiple spin-offs in the next few years.
BET+ has just given the greenlight to a biopic called "The First Lady of BMF: The Tonesa Welch Story," which is inspired by the life of Tonesa Welch, a native of Detroit. The biopic is based on her true story, which was first featured in "American Gangster: Trap Queens," also available on the streaming platform.
Vivica Fox, known for her work in "Holiday Hideaway," is slated to direct the film, with Gabrielle Collins writing the script. Tressa Azarel Smallwood, Judge Greg Mathis, Donte Lee, and Delece James will serve as executive producers.
The biopic will showcase Welch's journey from being a teenage mother to becoming a drug dealer, eventually earning the title "The First Lady of BMF" by federal prosecutors. Welch's story highlights her dreams, craftiness, creativity, hustle, and hard work. It delves into a chilling tale about wealth, regret, personal accountability, and redemption, all taking place during the crack epidemic and the "war on drugs" in Detroit.
Production on "The First Lady of BMF: The Tonesa Welch Story" is set to begin in April in Washington, D.C., and will debut on BET+ later this year.
Photo: STARZ
​ ​
​ ​ ​