MUSIC MAYHEM: SZA Taps Doja Cat For 'Kill Bill (Remix)' + Ciara, Lola Brooke & Lady London Turn Up For 'Da Girls (Remix)' + New Music From Shenseea & K. Michelle
​
Apr 14 | by _YBF
​ ​ ​ ​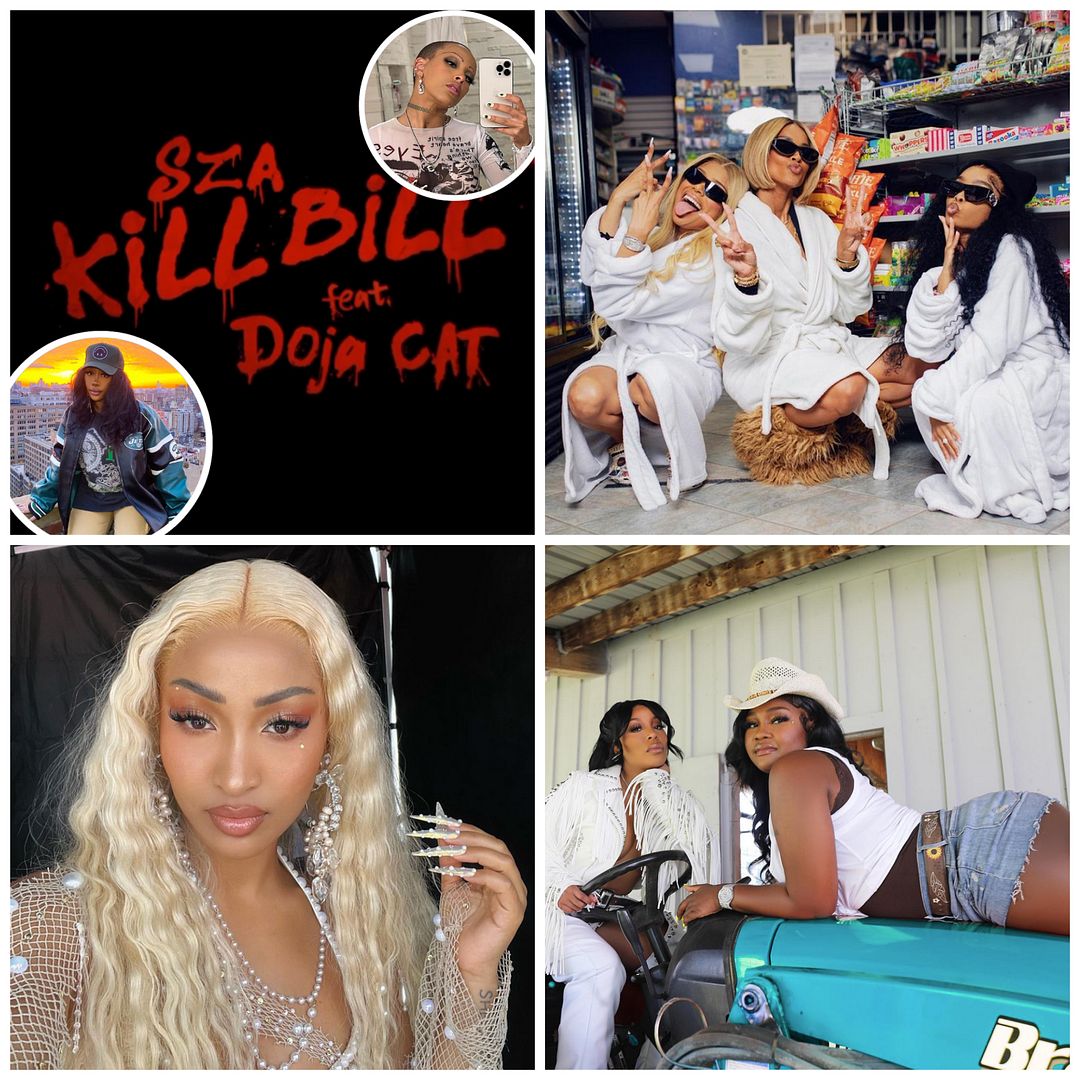 SZA taps Doja Cat for the "Kill Bill (Remix)," while Ciara links up with Lola Brooke and Lady London for "Da Girls (Remix)." Also, we have new music from Shenseea and K. Michelle. Take a listen inside…
The girl power duo of SZA and Doja Cat are not slowing down anytime soon, as they just released a remix of the hit song "Kill Bill," a track from SZA's S.O.S. With the powerhouses teaming up once again, they are sure to to climb the charts with their fierce collaboration.
Jesus.. what is it https://t.co/u6bx5ydf6K

— SZA (@sza) April 13, 2023
The release was preceded by a cryptic message from Doja, telling SZA that she "did something bad" - but we all know that anything Doja touches turns to gold! Their previous collaboration on "Kiss Me More" (a cut from Doja's Planet Her) was a massive hit, earning them a well-deserved Grammy win for Best Pop Duo/Group Performance.
"Kill Bill" has been climbing the charts since its release and even hit No. 2 on the Billboard Hot 100.
Take a listen to their remix below:
By the way, SZA recently added new tour dates to her S.O.S. tour. Find out if she's coming to a city near you HERE.
On another remix...
Ladies, listen up! Ciara's latest single, "Da Girls," was already an anthem of empowerment for us all, but hold onto your seats because it just got even better. The queen herself has recruited two rising stars, Lola Brooke and Lady London, to join her for the official remix, and it's everything the gworls needed and more.
To top it off, the trio brings the heat in a music video directed by Sara LaCombe, where they let loose and have some fun in a luxurious mansion. It's a visual feast for the eyes, and we can't help but wish we were partying with them.
Get into their girl anthem song and music video below:
Also on the music scene...
Get ready to dance, because Shenseea, the Jamaican musician who has topped charts and been nominated for a Grammy, has just released her highly anticipated track and music video for "Curious."
The infectious tune showcases Shenseea's signature dancehall vibe and catchy lyrics that will have you singing and dancing along in no time. With her sultry vocals and confident performance, Shenseea's versatility as an artist shines through in this single.
The track was produced by an all-star team including London on da Track, Beam, Fred Ball, Blak$ale, and Al Cres. The official music video was directed by Arrad, adding even more visual flair to this already exciting release.
As if that wasn't enough, Shenseea is also set to make her debut appearance at the legendary Coachella Music and Arts Festival on April 15th and 22nd. With more new music on the horizon, Shenseea is transforming from a dancehall performer into a world-famous pop singer, and "Curious" sets the tone for what fans can expect from her.
Watch her new video below:
As for another new video...
Singer K. Michelle has dropped a brand new single and video entitled "Wherever The D May Land," featuring Gloss Up, a rapper from Memphis.
The single is produced by Peter Eddins and KP and it was released through MNRK Urban. The video, directed by Sam Green and Richard Brickus and produced by Shot Clock Production, accompanies the third single off of her highly anticipated and final R&B album, I'm The Problem.
Recently, K. Michelle concluded her successful 21-city "I'm The Problem Tour," which included stops in major cities such as Baltimore, Charlotte, and Houston, where she celebrated her birthday with her devoted Rebels. J. Howell was the opening act for the tour, which culminated in numerous sold-out shows in cities like New Orleans, St Louis, and Atlanta.
Watch K. Michelle and Gloss Up turn up on the farm above.
BONUS:
Starting tonight, April 14th, and continuing through Sunday night, April 16th (including replays), Coachella's Official YouTube Channel will be livestreaming from more stages than ever before. Fans can choose a stage - Coachella Main Stage, Outdoor Theater, Sahara, Mojave, Gobi, Sonora (weekend 2 Yuma Stage) - and enjoy performances from a talented lineup of artists such as Frank Ocean, Burna Boy, Bad Bunny, BLACKPINK, Gorillaz, Rosalía, Calvin Harris, Björk, Kali Uchis, Porter Robinson, Becky G, and many others throughout the weekend.
Additionally, during breaks between sets, viewers from all around the world will have access to exclusive on-the-ground coverage of the art, artists, creators, installations, and behind-the-scenes Shorts moments. Moreover, YouTube will be present on the ground, providing fans with the complete Coachella experience and special access to.
Y'all ready?!
Photos: Instagram
​ ​
​ ​ ​