Halle Bailey Dives Into Her First Love, Racism Over 'Little Mermaid' Role, And How Beyoncé Is Helping With Her Solo Album In British VOGUE!
​
Apr 25 | by _YBF
​ ​ ​ ​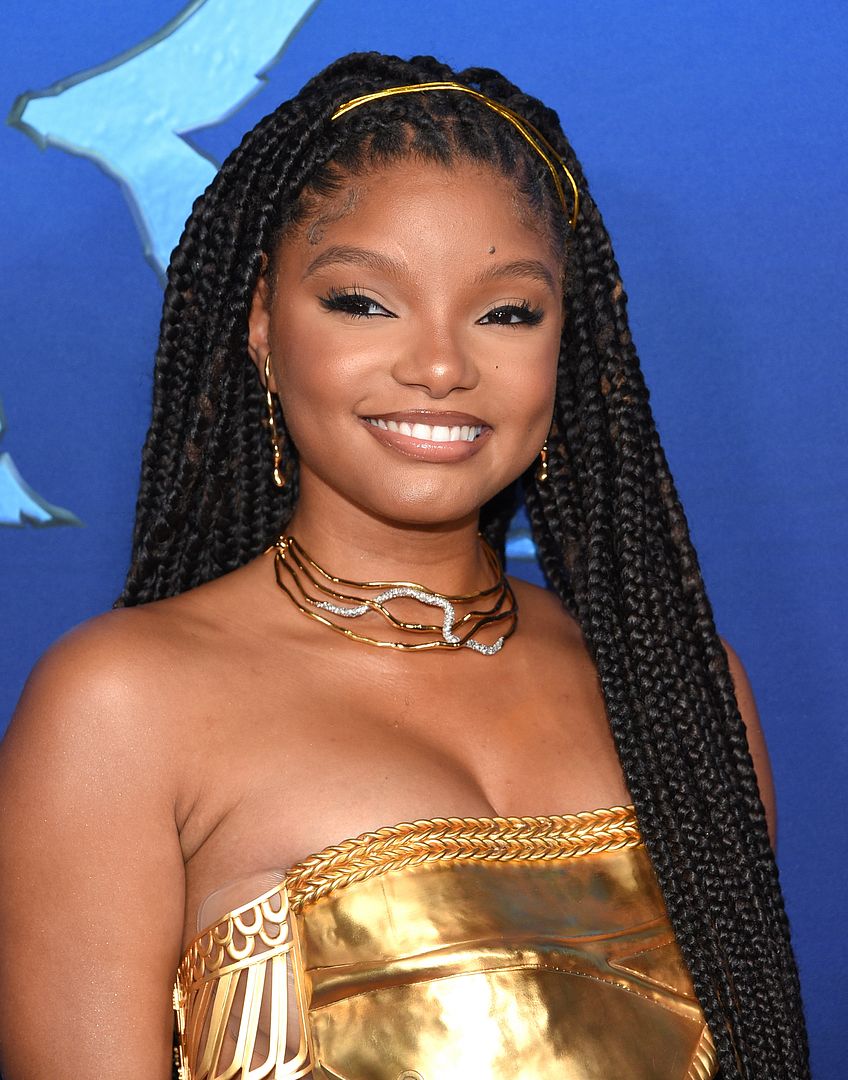 Halle Bailey is on fire, slaying her way onto the cover of British Vogue! But what's her secret to success? Staying out of the way and flourishing like nobody's business. Halle's unstoppable, and she's showing us all how it's done. More inside…
After leaving her singing duo with sister Chloe, Halle Bailey's been killing it on her own.
You can now add actress to her resume after nabbing the role of Ariel in Disney's live-action remake of The Little Mermaid, which was a role every "it girl" in Hollywood was after.
With her coveted role, Halle Bailey is gearing up to make her big-screen debut. But, before she does, she has landed the cover of British VOGUE's May 2023 issue.
Shot by Sharif Hamza and styled by Law Roach, Halle served up a fun spread, rocking designer threads like Miu Miu, Prada, Gucci, Dsquared2, and Ralph Lauren. For the cover story, the 23-year-old, who celebrated a birthday last month, opened up about her love life, how she deals with racism, and shared how her mentor, Beyoncé, is helping with her solo album.
The young starlet spilled the beans on this exciting new chapter in her life as she enters womanhood and all it entails. While most young women get privacy as they navigate their first real relationship, it's different for Halle. She got candid about the challenges of navigating a public relationship while pursuing her music career, and how love has transformed her creative process.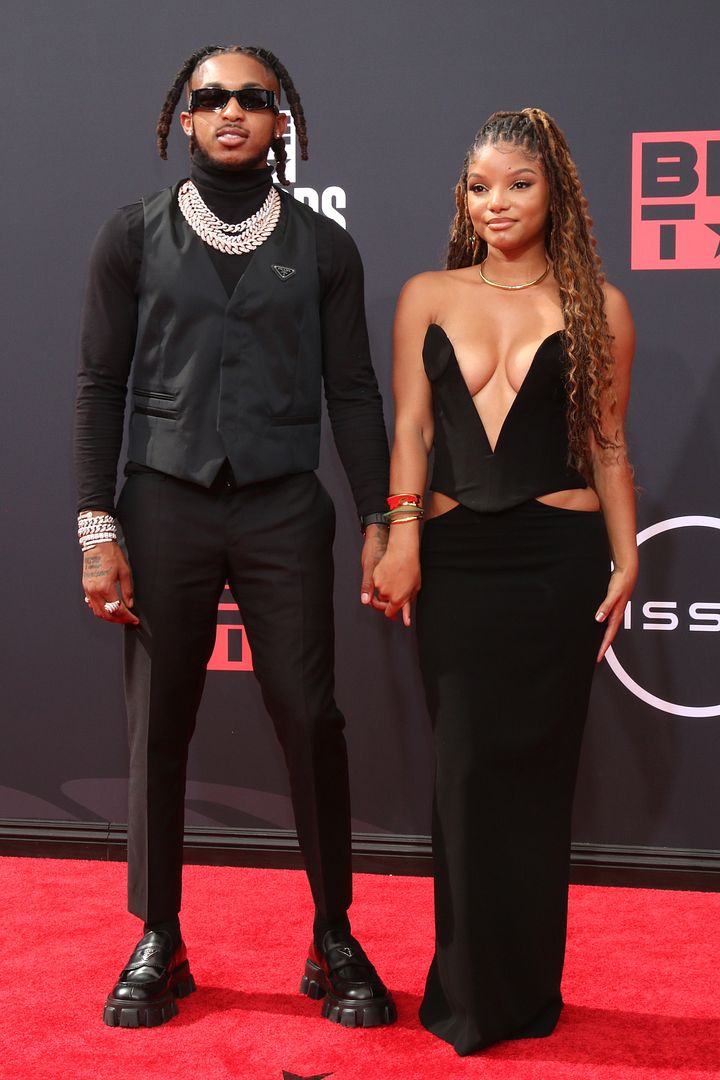 Halle's toughness was tested when rumors of a break-up with her boyfriend, YouTuber/rapper DDG, started trending on Twitter the week before the interview. However, she appears to have resolved any issues with her partner by the time she sat down for the interview, and love remains in the air.
"Experiencing deep love for the first time in my life is something I feel has opened a whole new world for me creatively," she shared. "What it feels like to love someone other than your family, like somebody you may not have known two years ago but now they're the centre of your world."
The "Busy Boy" singer expressed her appreciation for the scary and suspenseful feelings that come with love and the unknown. She sees it as a necessary part of her growth in womanhood, sharing, "I like all of the scary feelings that come with that. I like the suspense, the not knowing what's going to happen, and I feel like that's what I'm supposed to be going through in womanhood."
However, the attention that comes with being in the public eye has made her relationship more challenging. Halle acknowledges that there are many eyes on her, especially with what's to come in her music career, and sometimes she wishes she didn't have so many people watching her, especially when experiencing something as intimate as falling in love for the first time.
"It's also deeply sacred," she added, referring to her relationship. She understands the importance of privacy and cherishing the moments she shares with her partner.
As for her career, Halle basically changed her life after she landed the role of Ariel following her first audition.
"We started to see other people," said The Little Mermaid director Rob Marshall. "Many other people, hundreds of other people, but the bar had already been set. And no one ever surpassed that bar."
In 2019, during their performance of Donny Hathaway and Roberta Flack's duet "Where Is The Love" at the Grammys, Halle and Chloe caught the attention of Rob Marshall, the director of The Little Mermaid (Chicago, Mary Poppins Returns). Recalling the moment, Rob shared, "John DeLuca and I were watching, and I said, 'John, who is that? She looks like an angel.'"
Rob was particularly drawn to Bailey's ethereal and unique sensibility, which he felt was essential for the character of a teenage mermaid who had to embody strength, passion, courage, naivety, and innocence. He noted, "I mean, Halle's so beautiful, but she also has an otherworldly sensibility. This was so important for a character that's a mermaid and a teenage girl."
While the director of The Little Mermaid was excited about his lead, there were some people who took issue with Halle playing Ariel.
Following the announcement of Halle as the lead, the Twitter hashtag #NotMyAriel began circulating, attempting to argue that the completely fictional mermaid character could only be portrayed as white in vague and unclear terms.
"I don't allow it to impact me," she stated. "I grew up in Georgia, in the Deep South. As a Black woman, you're aware of the way things are and how some individuals are just blatantly racist."
Halle attributes her perspective to her paternal grandparents, who were born and raised in Moncks Corner, South Carolina, a town outside of Charleston named after a plantation slaveholder.
"My nana is 85 years old, and my grandpa is a bit older," she remarked, her hands gesturing excitedly, showing off her doughnut-glazed manicure. "I've talked to them about their life experiences. My nana witnessed her family picking cotton, and she was restricted to drinking from a certain water fountain and subjected to the paper bag test."
Halle is referring to the "brown paper bag test," a discriminatory practice that prohibited darker-skinned African Americans from accessing various social institutions. The test, which originated from slavery and the Jim Crow era, persisted well into the 20th century.
"When I hear my grandparents' tales, I feel like I'm the most fortunate person on the planet," Halle declared. "All of the hatred I've experienced pales in comparison to what my forefathers lived through in their lifetime."
A word.
On the musical front...
Halle's newfound independence is a central theme in her upcoming solo album, a sonic blend of her jazz and grunge influences. When she needs to collaborate with someone, she has her sister Chloe and the iconic Beyoncé, her mentor. When asked if she has the most Grammy-awarded artist on speed dial, Halle's eyes light up in disbelief as she nods her head.
"I played her a bunch of my songs, and she was so excited for me. It's amazing to have someone as talented and established as she is confirm that the art you're creating matters," she gushed. "She doesn't dictate what I should do; she's incredibly open that way. To have her support since we were 15 is something I cherish deeply."
behind the scenes of halle's photoshoot with british vogue. pic.twitter.com/qtbBt5IjaU

— Halle Bailey Legion (@HalleLegion) April 25, 2023
Although Halle regards Beyoncé as a big sister figure, she admits to fangirling at times.
"We were in Dubai and caught her show," she said, recalling the one-hour private concert the multi-talented artist reportedly earned $24 million to perform at the opening of the Atlantis The Royal hotel. "She's so down-to-earth, but her performance is so mind-blowing. It's incredible to witness her immense talent and magical voice." Bailey is similar in person, low-key but a high-energy performer.

"I try not to get caught up in the entertainment industry hype because it's easy to do so. I don't focus on the pressures and the scale of it all," she explained.
Being around Bey, we totally get it!
You can read Halle's full British VOGUE cover story here.
Also…
Halle joined her sister, Chloe, on her "In Pieces" Tour.
The sisters reunited during Chloe's Atlanta show, which is their hometown, to perform a few hits from their 2020 studio album, Ungodly Hour. Check out videos below:
Love to see it!
Photo: Kathy Hutchins/Shutterstock
​ ​
​ ​ ​