White House Correspondents' Dinner 2023: Roy Wood Jr. Shuts Down Misogynistic Attacks On VP Kamala Harris + POTUS Biden Gives Brittney Griner A Shoutout
​
Apr 30 | by _YBF
​ ​ ​ ​
At the White House Correspondents Dinner, comedian Roy Wood Jr. spoke out against misogynistic attacks on Vice President Kamala Harris. He called out the double standard in which VP Harris has been subjected to questions about her role and responsibilities, which are rarely asked of male vice presidents. Also, POTUS Joe Biden gave WNBA star Brittney Griner a shoutout during his speech. Everything inside…
Last night, the President, Vice President, senior government officials, journalists, and celebrities gathered together to attend the 2023 White House Correspondents' Association's annual dinner (aka Nerd Prom).
The White House Correspondents' Association relies heavily on its annual dinner as the primary source of revenue to fund various initiatives. These initiatives include supporting journalists covering the presidency, organizing events and programs aimed at educating the public about the value of the First Amendment and a free press, and offering scholarships to aspiring journalists.
The host of this year's dinner was Roy Wood Jr., who was tasked with roasting the president, the press, and other prominent figures. The stand-up comedian rose to the challenge and delivered a memorable performance that resonated with attendees and viewers alike.
"The Daily Show" correspondent didn't shy away from speaking out against the misogynistic attacks on Vice President Kamala Harris during his performance at the White House Correspondents' Association dinner.
Amidst some light jabs at President Joe Biden, Roy turned his attention to defending VP Harris and calling out the double standard in which she has been subjected to questions about her role and responsibilities that are rarely asked of male vice presidents.
"I think the most insulting scandal of the Biden administration was placed at the feet of our Madam Vice President. The scandal of: What does Kamala do?," he quipped, before pointing out that nobody had ever asked that question of the vice president until a woman got the job.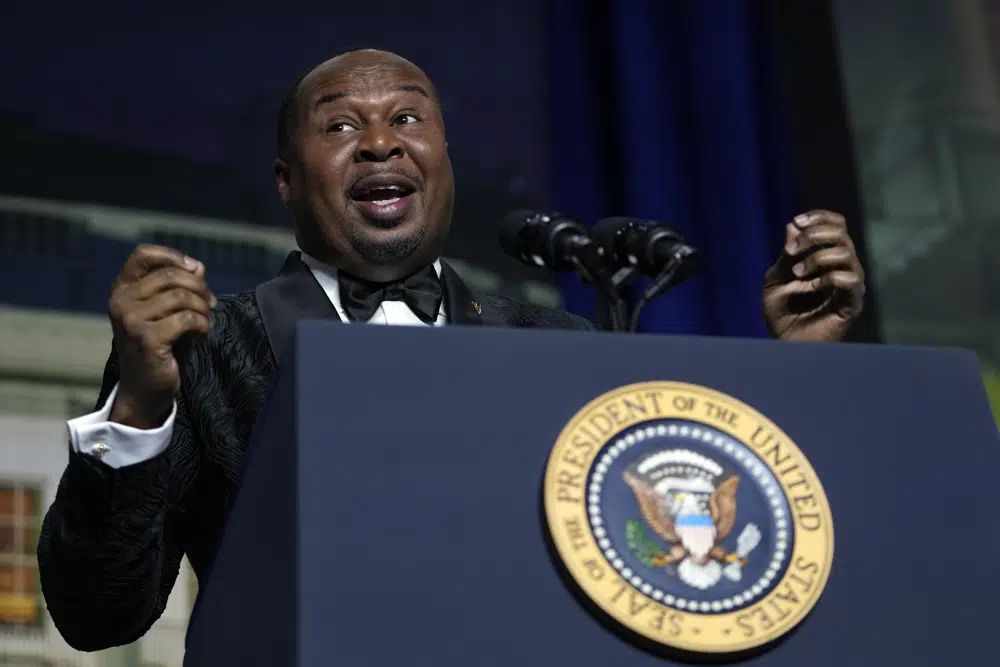 The Birmingham-raised standup comedian then took a humorous dig at former VP Mike Pence, highlighting the stark contrast in the way Harris has been treated compared to her male predecessor.
"Which is a disrespectful question. That's a disrespectful question, because nobody ever asked that question of the vice president until a woman got the job. I don't know what Mike Pence did. The only thing I know about Mike Pence is that he's really good at playing hide-and-seek at the Capitol. You gotta be crafty to catch Mike Pence at that Capitol, baby. He knows all the nooks and crannies."
Where's the lie?
Peep the clip below:
When @roywoodjr started his joke about Vice President Kamala Harris I was like

When he turned it into a hilarious and heartfelt TED Talk about misogynoir I was like pic.twitter.com/4QmR1XcMe0

— Qondi x S'ABLE Labs Presents THIRSTDAY IS TODAY (@QondiNtini) April 30, 2023
His commentary highlights the continued gender-based discrimination in the political sphere and the need for greater gender equality and representation.
Roy covered a wide range of scandals, including Trump's indictment and Biden's documents. He also couldn't resist poking fun at the reality show "Vanderpump Rules," initially comparing it to 50 Cent's "BMF" but for white people, before correcting himself and highlighting the power dynamics at play in shows like "Succession" and personalities like Tucker Carlson.
Roy's comedic commentary also touched on Don Lemon's firing and the shady relationship between Supreme Court Justice Clarence Thomas and Harlan Crow. As the son of a civil-rights journalist, Roy wrapped up his set with a heartfelt tribute to his mother (aww!) and the importance of journalists in telling the stories of those fighting for equality. His performance was a humorous and thought-provoking take on current events and societal issues.
You can watch his full set below:
During Biden's speech…
From a Russian prison to a presidential shoutout - Brittney Griner's journey in the past year has been nothing short of remarkable.
The WNBA superstar, who attended the dinner with her wife Cherelle Griner, found herself in a legal battle last year when Russian authorities found prescription hashish oil in her luggage and convicted her on drug charges. Fast forward to this weekend's White House Correspondents' Association dinner, and Brittney was invited as a guest of honor by none other than United States President Joe Biden.
During his speech, Biden gave Brittney a special shoutout, acknowledging her presence in the crowd and even declaring his love for her. It's safe to say that Brittney's resilience and perseverance have paid off, and she's now being celebrated in the highest echelons of American society.
Watch the moment below:
In the audience…
EGOT John Legend and his wife Chrissy Teigen were spotted in the audience at the White House Correspondents' Association dinner.
Other celebrities in attendance included, Winnie Harlow, Gayle King, Nate Burleson and his wife Atoya Burleson, Rosario Dawson, Ayana Presley, Ego Nwodim, Sunny Hostin, Angelica Ross, and Rev. Al Sharpton.
I love running into the good sis @winnieharlow #WHCD pic.twitter.com/fvKzNDbMbD

— A N G E L I C A (@angelicaross) April 30, 2023
Gayle King and Brittany Griner attend the 2023 White House Correspondents' Association Dinner at Washington Hilton on April 29, 2023 in Washington, DC pic.twitter.com/ZCvNl9P9X5

— celebs (@celebfashionnnn) April 30, 2023
Swipe to see more red carpet flicks below:
After the dinner…
The Smithsonian's National Museum of African American History and Culture in Washington, D.C. was brimming with Black excellence on Saturday as top Black reporters, policymakers, and celebrities gathered for theGrio's Washington, DC Gala after the White House Correspondents' Association Dinner.
Guests were dressed to impress, enjoying drinks and dancing to the beats of DJ Ty Alexander. The event was presented by media mogul Byron Allen, owner of the Black news site My Black is Beautiful.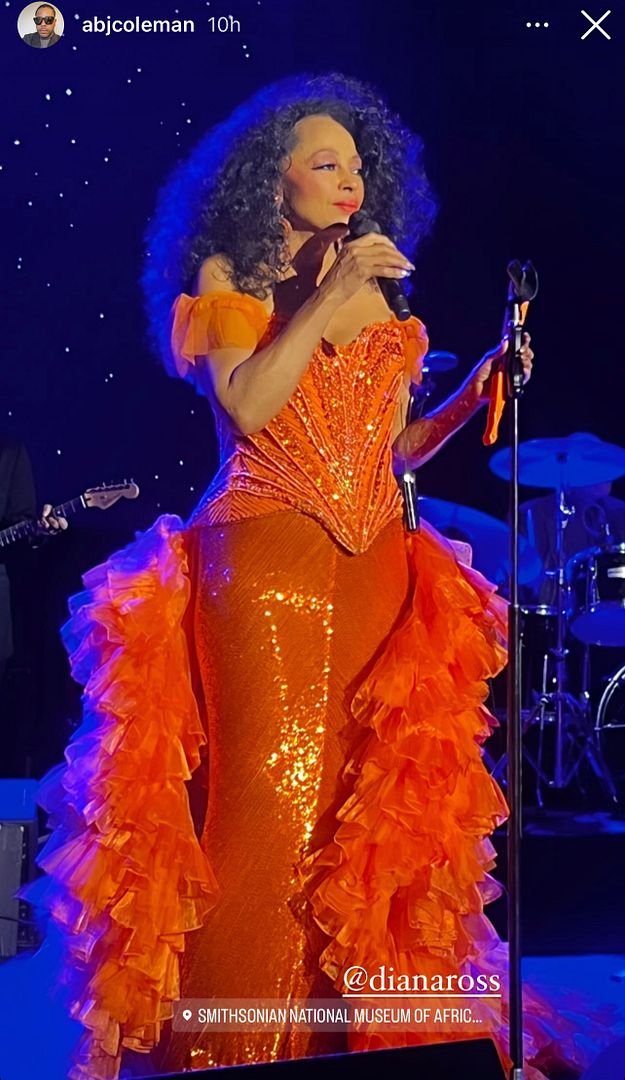 The exclusive event included a special performance by legendary singer Diana Ross. The invite-only crowd cheered as Diana took the stage in a stunning orange bejeweled and feathered dress, singing her hit songs, including the iconic "Ain't No Mountain High Enough."
CBS News' Gayle King received the Journalist Icon Award for her contributions in journalism and media, including co-hosting "CBS Mornings" and hosting the weekly SiriusXM show "Gayle King in the House," in addition to being the editor-at-large of Oprah Daily.
Areva Martin, author and award-winning civil rights attorney, and BJ Coleman, Vivica A Fox's manager, shared photos from the event that you can check out above and below.
Fab times.
Photos: Photos: AP Photo/Carolyn Kaster/AP Photo/Jose Luis Magana
​ ​
​ ​ ​