Babyface Claims Foul Play on Anita Baker's Tour: Denied Performance to Give Songstress Full Stage Time + Industry Peeps React!
​
May 11 | by _YBF
​ ​ ​ ​
Babyface speaks out after he was allegedly asked NOT to perform to give headliner Anita Baker could perform her entire set on "The Songstress Tour." Find out what he said and see how some industry people reacted to the news inside…
Anita Baker's 15-date "The Songstress" tour stopped in New Jersey last night as part of her farewell tour and concertgoers were left disappointed and frustrated.
Fans not only waited for two hours for the "Sweet Love" singer to take the stage, but co-headliner Kenneth "Babyface" Edmonds did not perform at all.
The backlash on social media prompted the Grammy winning singer-songwriter to speak out and address rumors that Anita Baker was acting like a "diva" towards him. To accommodate Anita's set, the organizers had to cancel Babyface's performance, which only added to the dissatisfaction of the audience.
In a tweet, the 64-year-old singer apologized to his fans and explained that he was asked not to perform so that Ms. Baker could have enough time and space for her show, which only added to the dissatisfaction of the audience.
"I am truly sorry to my fans who have been waiting for us to hit the stage this evening at the Prudential Center," Babyface wrote in an Instagram post. "I was asked not to perform in order to give Ms. Baker her space and time to perform her show in its entirety. My band and I are extremely saddened we didn't get to perform for y'all tonight."
Industry folks, like singer Lalah Hathaway and producer Rico Love, hopped in Babyface's comments section with reacts. Lalah posted an ellipsis, while Rico Love seemingly called out Anita for alleged "diva" antics. "Here she go with that bullsh*t," Rico responded. See below: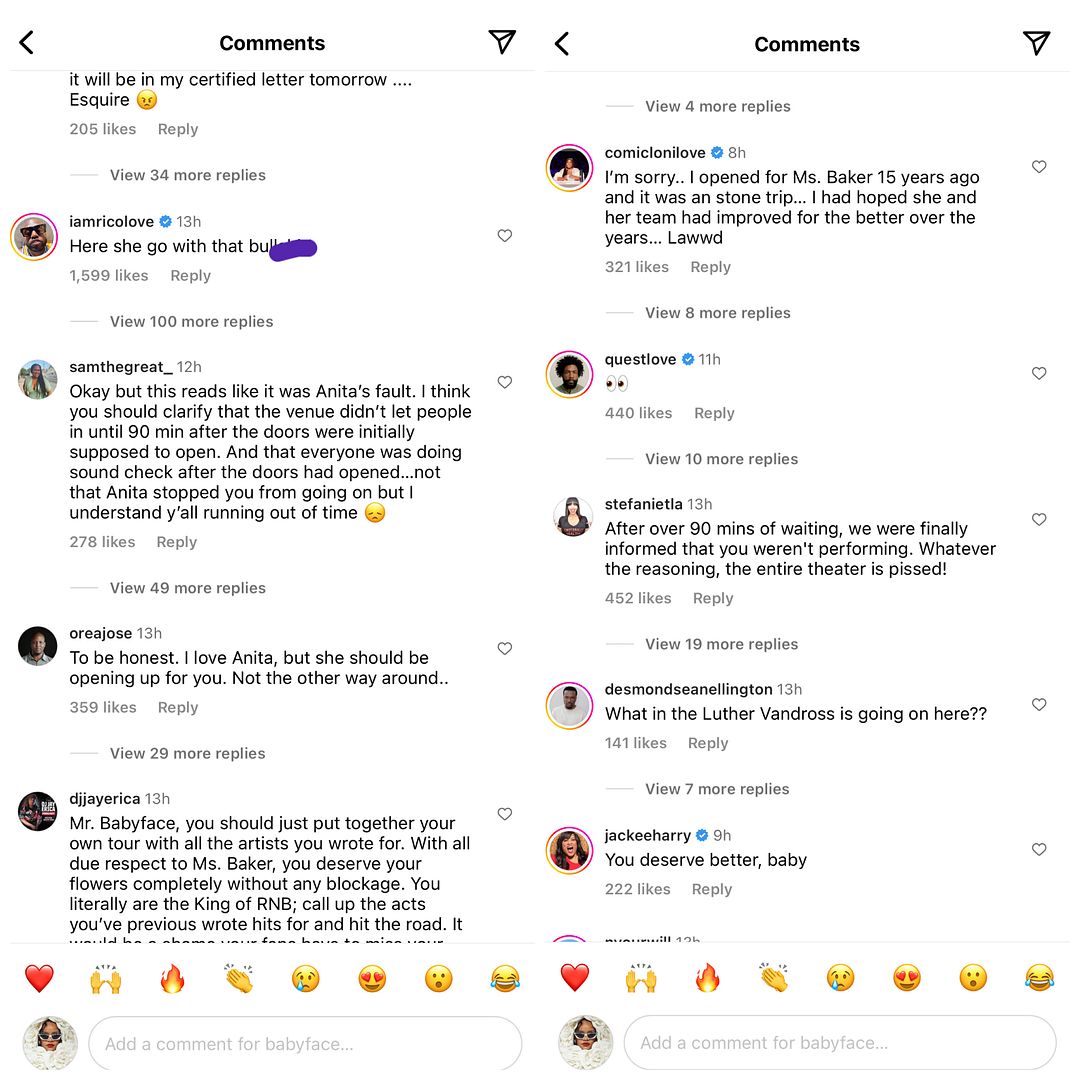 Singer Stephanie Mills also reacted to the concert drama: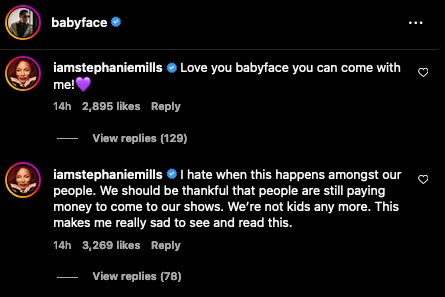 "Love you babyface you can come with me!," she wrote. "I hate when this happens amongst our people. We should be thankful that people are still paying money to come to our shows. We're not kids any more. This makes me really sad to see and read this."
Apparently, the reason for the delay of the concert was due to technical difficulties with the sound system. This has led to a number of disappointed fans seeking refunds through Ticketmaster and LiveNation.
I was at the Anita Baker, Babyface show. Over 2-hr wait & a Babyface cancellation. I dont know who is at fault but @Ticketmaster needs to offer partial refunds. People using canes/wheelchairs were waiting in the lobby for 90 min cuz they wouldnt let us to our seats. Not cool.

— Clay 'Critical Thinking Theory' Cane (@claycane) May 11, 2023
I am at the Anita Baker concert, it is 2 hours late! This is unacceptable! Ppl have to work tomorrow,others don't live in NJ and traveled here. No announcements have been made. Tickets were expensive. Disrespectful! Who is responsible for this? Shameful. #refund

— Diane Nathaniel (@diane_nathaniel) May 11, 2023
Watch how the crowd erupts when they are told Babyface would not hit the stage:
Boooooooo @babyface #anitabaker refund everyone who came out, flights, hotels, rentals to see you and no show because of "technical difficulties" pic.twitter.com/RAyOfLJQC1

— Prettyuhmazing (@prettyuhmazing) May 11, 2023
Anita Baker offered up an apology when she hit the stage:
Anita Baker apologized for the 2 hour delay and asked if Live Nation apologized to us #Newark #PrudentialCenter pic.twitter.com/0vJqowodW0

— Lanette Espy (@NJLaLa) May 11, 2023
Ticketmaster and LiveNation have not yet responded to the complaints from fans who were disappointed by the concert. Hopefully, they come up with a solution to satisfy disgruntled fans soon.
In 2006, Babyface filed a breach of contract lawsuit against singer Anita Baker. He claimed that she owed him more than $250,000. The lawsuit, which was filed in Los Angeles Superior Court, stated that Anita had broken two oral agreements with Babyface. He had co-written, produced, and performed on the song "Like You Used to Do" on Anita's 2004 album My Everything. The lawsuit alleged that Anita did not pay Babyface for his work as a producer, which amounted to a minimum of $100,000 in producer's royalties from the sale of over 500,000 albums.
We assume the lawsuit was settled now that they're on tour together. Thoughts?
Photo: Kathy Hutchins/DFree/Shutterstock
​ ​
​ ​ ​