Byron Perkins, First Openly Gay Football Star at an HBCU, Introduces Partner in Celebration of Pride Month
​
Jun 02 | by _YBF
​ ​ ​ ​
Hampton University cornerback Byron Perkins, the first openly gay football player at a historically Black university, decided to show off his beau to celebrate Pride Month. More inside…
Yesterday marked the beginning of Pride Month, a time to honor the triumphs and achievements of the LGBTQ+ community. In a jubilant celebration of authenticity and love, Byron Perkins, the trailblazing openly gay football player at a historically Black university, proudly showcased his new partner.
Hailing from Hampton University, Byron etched his name in history as the first football player at an HBCU to come out as gay.
Now, he's introducing his partner, James "JD" Dunn, to the world.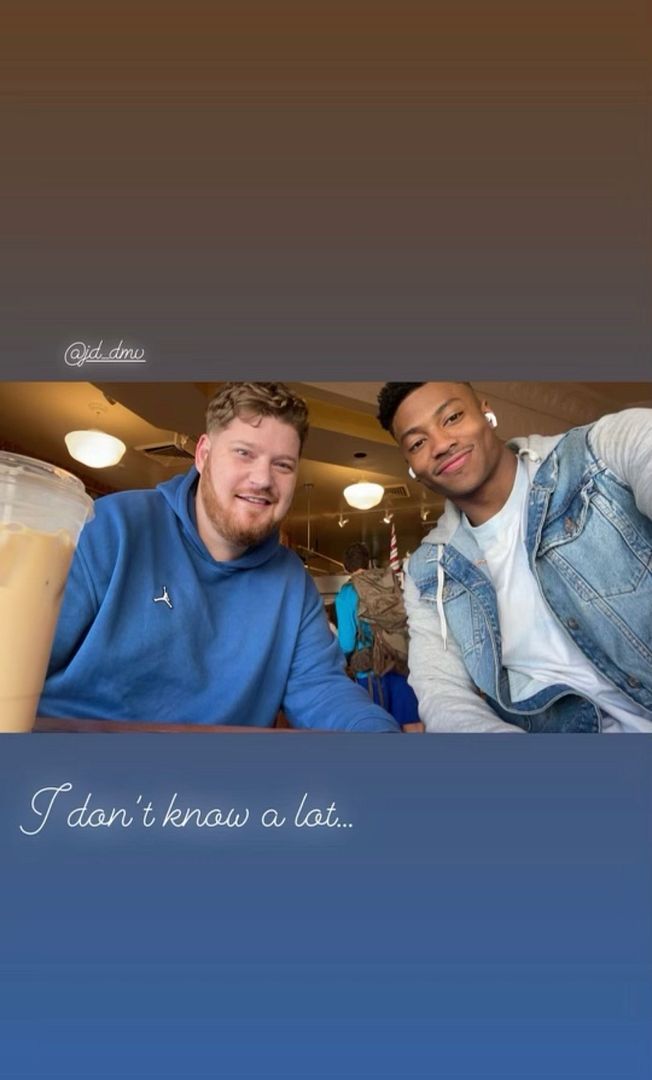 "I may not know much, but one thing I do know is that I love you. Happy Pride, my love," he passionately expressed over coupledom photos posted on his Instagram Stories.
Byron also posted a screenshot of a message he received from someone who sent him encouraging words following the backlash from people who have an issue with Byron dating a white man.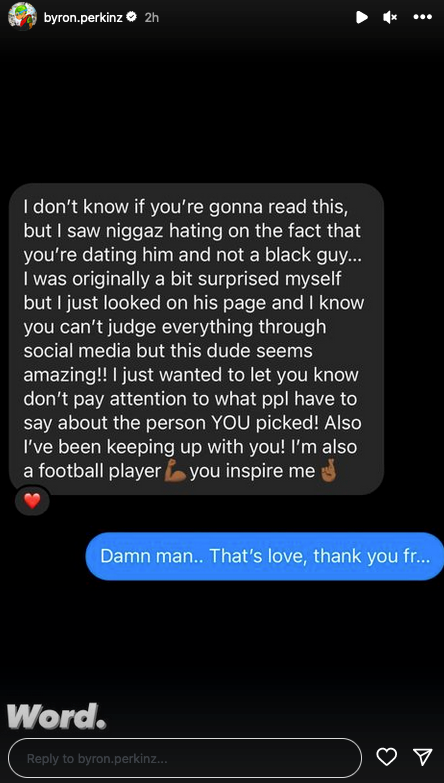 The fan wrote, "I don't know if you're gonna read this, but I saw niggaz hating on the fact that you're dating him and not a black guy…I was originally a bit surprised myself but I just looked on his page and I know you can't judge everything through social media but this dude seems amazing!! I just wanted to let you know don't pay attention to what ppl have to say about the person YOU picked! Also I've been keep up with you! I'm also a football player. You inspire me."
Byron responded, "Damn man.. That's love, thank you fr…"
JD also posted a collage of photos with Byron and friends with the caption, "Owning our story and loving ourselves through that process is the bravest thing we'll ever do. Happy Pride Month! #pride #pride #lgbt #loveislove"
Last year, Byron appeared on "The Tamron Hall Show," recounting his courageous decision to publicly embrace his true identity. At just 22 years old, Byron made history as the first Division I football player at an HBCU to come out.
Once he realized that conforming to others' expectations only caused him pain, he resolved to live as the most authentic version of himself. Perkins shared, "I simply wanted to become a better, truer version of who I am."
Despite initial concerns from his mother, Tracy Perkins, who feared rejection and prejudice, Byron stood his ground. He reassured her that, as her only child, nothing could deter him, as he proudly inherited her strength and resilience.
Watch his segment below:
In a vibrant display of courage and love, Byron Perkins lights the path for others to embrace their true selves, reminding us all that love knows no boundaries and that true freedom lies in living authentically.
In May, Byron graduated from Hampton University:
Congrats!
Photo: Instagram
​ ​
​ ​ ​