Blueface's Mother Apologizes To Erykah Badu & Yung Miami For Calling Them 'Rent-A-Center B******' After 'Trash' Drama
​
Jun 06 | by _YBF
​ ​ ​ ​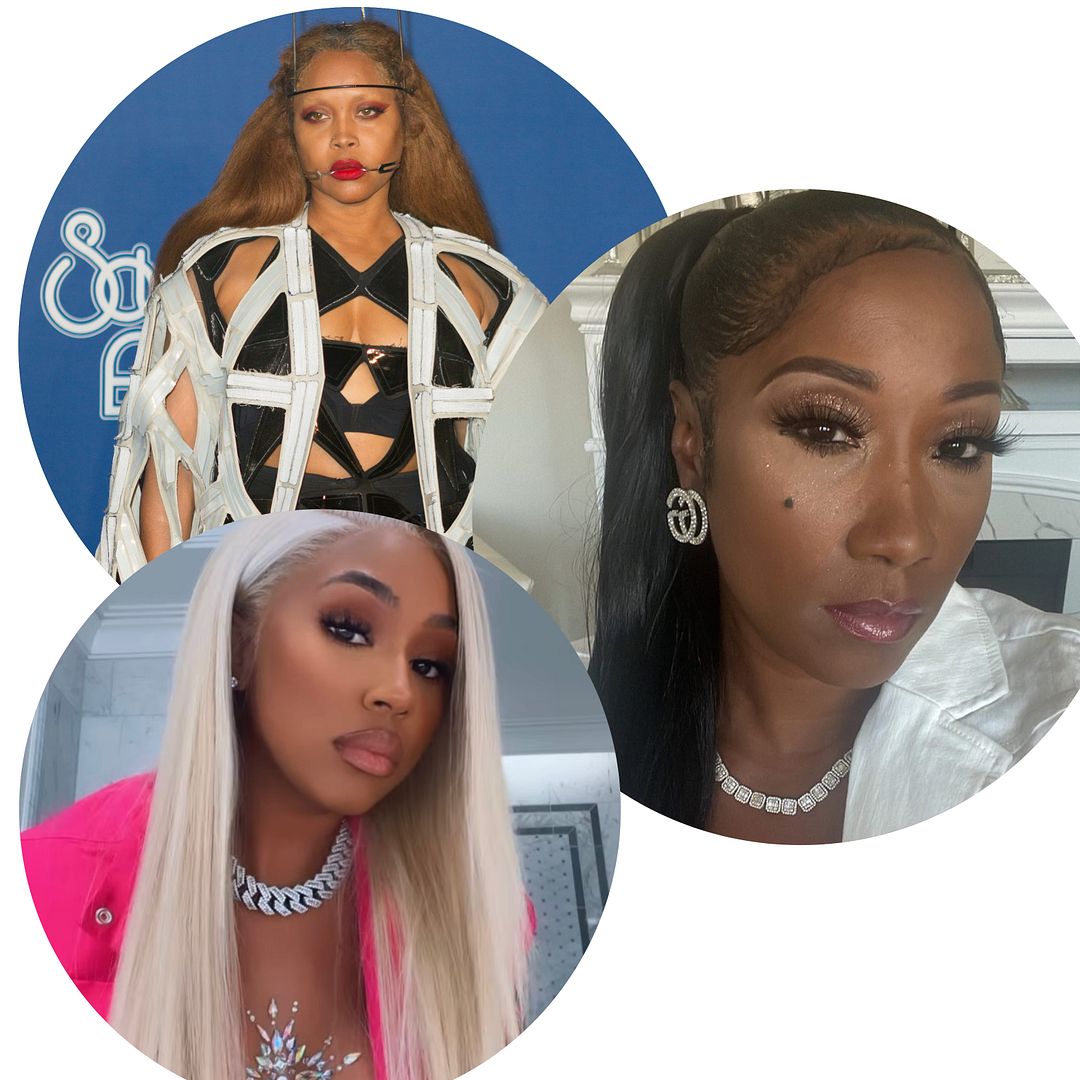 Blueface's outspoken mother, Karlissa Saffold, issues an apology to Erykah Badu and Yung Miami after she called them out of their names in defense of her son amid his online feud with his baby mama, Chrisean Rock. Deets inside....
Blueface's mom, Karlissa Saffold, has taken a step towards reconciliation and issued a public apology to Erykah Badu and Yung Miami.
Previously, she had referred to them as "Rent-A-Center B*tches" amidst the ongoing drama surrounding her son's behavior.
In a new video, Karlissa explains that her anger and frustration regarding the constant influx of negative messages about her son, Blueface, and his pregnant girlfriend, Chrisean Rock, led her to utter those hurtful words. However, after reflection and prayer, she said she felt compelled to express her sincere apologies for the disrespectful remarks.
Karlissa acknowledges that she was particularly upset with Erykah and Caresha (or "Karrueche" as she referred to her) because she believed they were part of the group of people sending her negative messages, telling her to stay out of her son's business. In the clip, she extendes her apology to anyone she may have offended with her angry outbursts.
Peep the clip below:
So what sparked all of this?
The "Tyrone" singer shared her thoughts on the exhausting online drama between Chrisean and Blueface, calling him "trash" and invoking the universe to intervene.
Blueface's mom responds:https://t.co/52WCdDsvQr pic.twitter.com/BMG935FrfY

— HipHopDX (@HipHopDX) June 3, 2023
Apparently, Erykah, who is a doula, was offended by Blueface's latest music video for his track "BDD." The controversial visual features the California rapper spitting explicit lyrics and delivering punchlines while surrounded by pregnant women.
"Girl you was just calling Tyrone and paying his cousins and homeboys way don't and ain't nobody said nothing to you," she wrote on IG Story in reference to Erykah's classic 1997 song "Tyrone." She continued, "Did this heffa just use the universe against the child of God? Are we watching this sh*t here?"
Karlissa reacted strongly, criticizing the "On and On" singer on her Instagram Story and later went on an Instagram Live rant, where she referred to both the "Bag Lady" singer and the "Act Bad" raptress as "Rent-A-Center b*tches."
Watch Karlissa's rant below:
However, Karlissa now regrets her choice of words and seeks to make amends.
Yung Miami, also known as Careesha, responded to the situation differently. Instead of engaging in the back-and-forth, she showed support for Chrisean, emphasizing that she is strong and capable of overcoming any challenges she faces. Yung Miami's response, while not mentioning Blueface directly, expressed positivity and encouragement.
You're beautiful & FULL OF LIFE! https://t.co/UroaB06ouJ

— Yung Miami (@YungMiami305) March 13, 2023
While Chrisean aims to distance herself from the negativity online, Blueface remains unapologetic, defending his actions and asserting that he is only involved with his first baby mama, Jaidyn Alexis. Boy, bye.

Glorilla brought out pregnant Chrisean Rock on stage and she started twerking
​ ​
​ ​ ​