Love is no longer confined to chance meetings, blind dates, or mutual friends' introductions. The internet has changed the dynamics of romance, breaking down barriers and expanding possibilities.
While we think that only "regular" people use apps and sites like this one here to find Russian brides, our favorite celebrities def aren't immune to online matchmaking. Want to find out who of your favorites met online? Let's dive in.
#1: Saweetie and Quavo
One-third of the famous hip-hop trio Migos, Quavo, didn't shy away from modern romance. He slid into rapper Saweetie's DMs with a snowflake emoji, referencing her hit "ICY GRL." Saweetie responded with a noodle emoji, nodding to Migos' "Stir Fry." This fun, flirty exchange turned into real-life chemistry, setting the stage for one of hip-hop's most talked-about relationships. The icy relationship melted three years later, but it def looked like they had a TIME while they were going strong, gifted Bentleys and all.
#2: Amber Rose and Wiz Khalifa
Model and actress Amber Rose and rapper Wiz Khalifa's online romance story might just give you hope with the "like" button. The couple started their relationship after Amber noticed Wiz's posts on Twitter. Their long-term relationship blossomed publicly on social media and led to a beautiful son, Sebastian. Though they've since parted ways, their digital love story remains iconic. And their co-parenting relationship (as seen above with them posing together along with Bash in March at the Nickelodeon Kids' Choice Awards) is one to be admired.
#3: Simone Biles and Jonathan Owens
The Olympic gymnast, Simone Biles, is not just a champion in her sport, but also in the love arena. She initiated the first move by sliding into the DMs of Jonathan Owens, the Houston Texans safety. Their bond grew stronger during the pandemic lockdown, leading to numerous cute posts and heartwarming stories shared with their fans. Oh, and a ring. Their wedding this past spring – well, weddings – were STUNNING.
#4: Amber Riley and DeSean Black
Former "Glee" star Amber Riley wasn't too proud to make the first move. After coming across DeSean Black's profile on Instagram and admiring his posts and fashion sense, she decided to send him a message. This brave move turned out to be a fruitful one. The two became inseparable, with Amber often sharing glimpses of their romantic journey on her social media.
Two years into their engagement, Amber called it off. But it seems she has no regrets in the love she found, and has already found love again.
#5: Common & Tiffany Haddish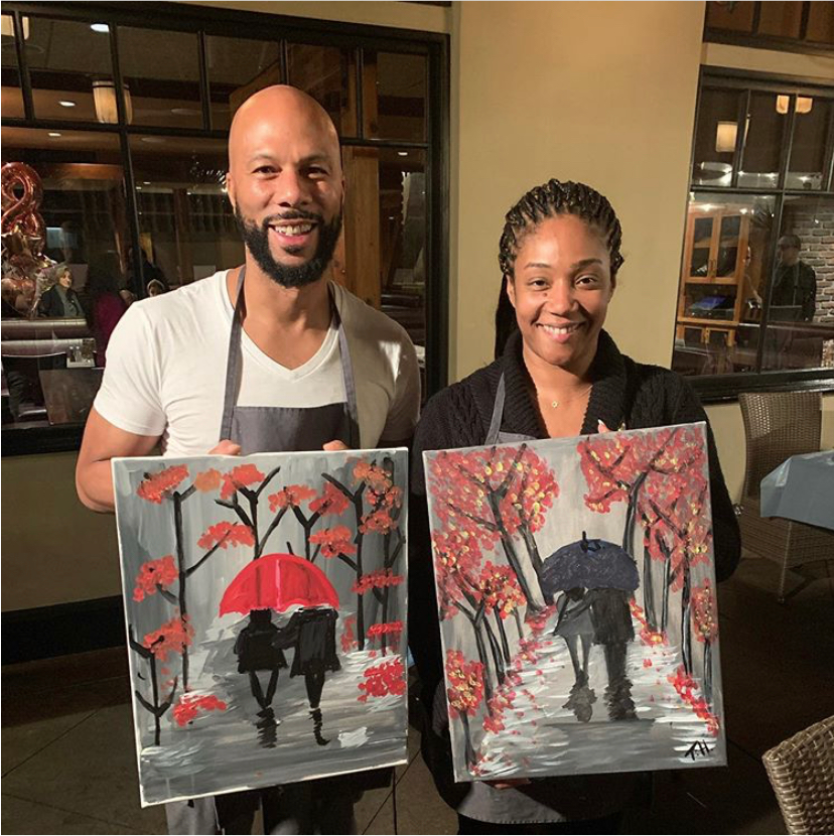 Their initial rendezvous occurred on the sets of The Kitchen, a gritty crime drama set in the atmospheric backdrop of 1970s New York. Tiffany, portraying the fierce Ruby O'Carroll, found herself intertwined in a complex narrative with Common's character, Gary Silvers, an FBI agent. As the plot thickened on-screen with crime, passion, and suspense, little did the audience know that the real-life script was setting the stage for an off-screen romance. But here's where the story takes a modern twist.
Before their off-screen relationship blossomed, Tiffany dabbled in the world of online dating. In May 2019, she took a leap into the digital realm of Bumble. This stint on Bumble would later serve as the bridge to their collaborative charitable efforts. This was around the time COVID-19 brought the world to a standstill. When Bumble approached Tiffany with a charitable initiative aimed at supporting frontline workers and children, she immediately thought of Common. Given their growing camaraderie and shared passion for philanthropy, it made perfect sense. Common, ever the gentleman and activist, didn't need much convincing.
The twosome put their coupledom in the activist streets during the 2020 protests, and despite things fizzling out recently, both Tiffany and Common continue to speak pretty highly of each other. For the most part.
A Few Takeaways from These Digital Romances
In today's world, the notion of finding lasting love online isn't just a possibility; it's a prevailing reality. The tales of these celebrities, like countless others, demonstrate the profound connections that can form in the digital realm. The digital space levels the playing field, allowing anyone to take the reins of their love life. Whether it's making the first move or setting clear intentions, online platforms offer an environment where proactive steps in pursuit of love are encouraged and celebrated.
Photo Credit: Tinsletown/Shutterstock.com, Instagram